For most people in the United States, a large portion of their early life is spent in a school or educational system. This means that children are enrolled in public schools, private schools, charter schools, or alternative educational systems at around the same time in their lives, and generally remain in these systems until they graduate (or equivalent). As a result, there is a lot of emphasis placed on choosing the right schools for children, and these decisions are made on a variety of factors including family socioeconomic status, geographical location, access to transportation, and more.
The same can be said for Hawai'i, though there are some key differences that make Hawaiian educational systems differ from their mainland United States counterparts.
Note: For this guide, we will be focusing mainly on the island of O'ahu, though other islands and schools on other islands will be mentioned.
Public Schools
Firstly, Hawai'i public school funding comes from an annual budget set forth by the State of Hawai'i's legislature and governor, as opposed to the traditional method of using property taxes like in many places on the mainland. A mixture of mainly state tax revenue funds as well as some capital funds and money given from the federal government keep Hawai'i's public school systems running.1
Second, the Hawai'i public school system (which was founded by King Kamehameha III in 1840) is very large and covers all of the Hawaiian islands. Unlike the mainland which typically separates school systems into smaller districts and delegates board members to dictate over these districts, the entire Hawai'i public school system is run by one overarching Superintendent and one Hawai'i Board of Education. Where they are more similar to their mainland counterparts is in what are called "complex areas," of which there are 15, and each complex area is led by a complex superintendent chosen by the high schools of which they oversee.2
The majority of these districts are located on O'ahu due to the large population on this island, and they consist of the following:3
Honolulu District
Central District
Leeward District
Windward District
According to the U.S. News & World Report, the top 5 public schools in Hawai'i are the following:4
1. President Theodore Roosevelt High School
2. Henry K. Kaiser High School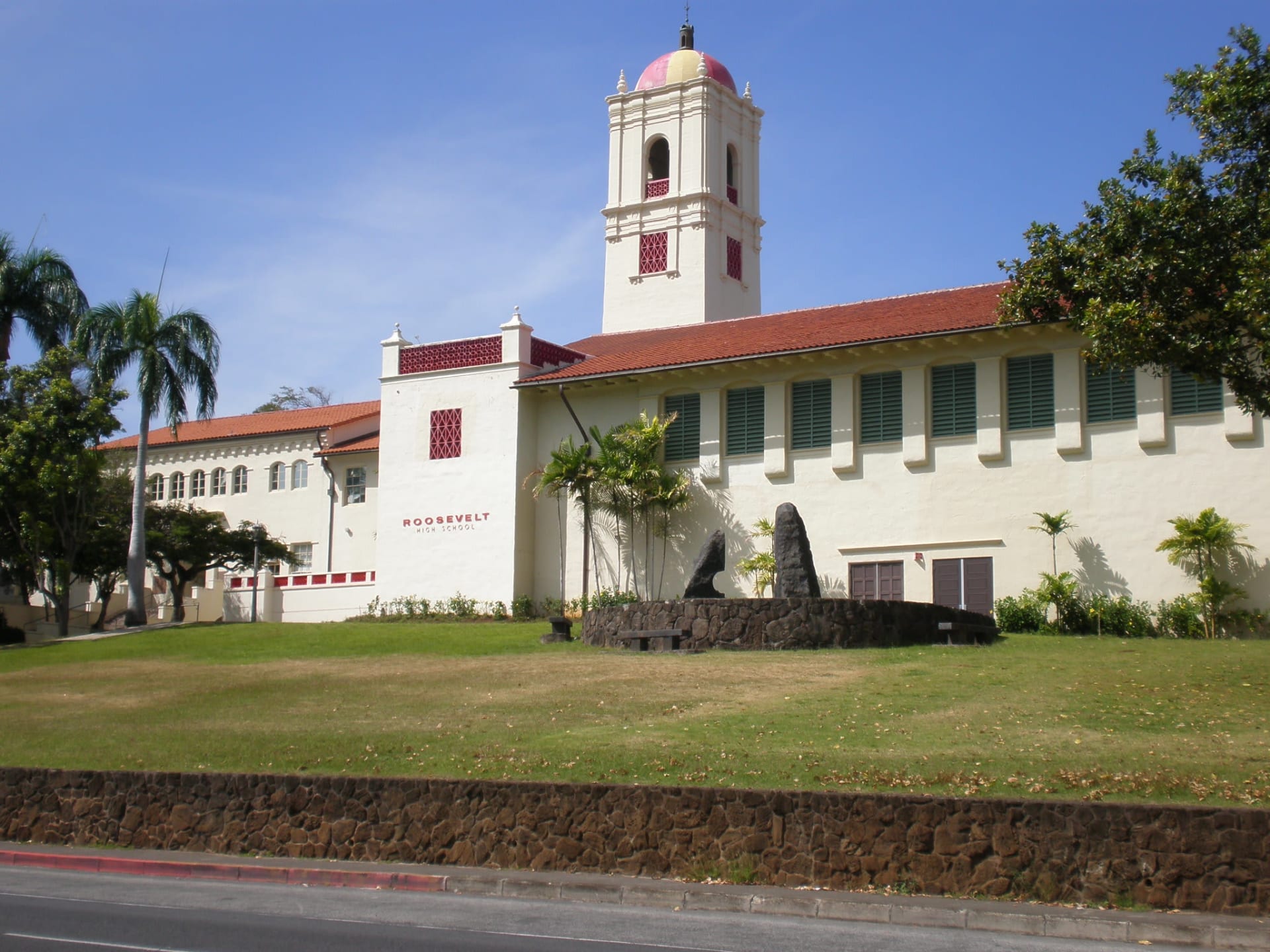 President Theodore Roosevelt High School via Wikimedia Commons
Private Schools
Private schools in Hawai'i, on the other hand, operate similarly to their mainland counterparts. These schools set their own policies, admission requirements, teacher credentials, and educational/curriculum goals. As a result and unlike public schools, prospective students for private schools must apply and be accepted in order to attend a certain school. However, this does mean that private schools can offer a more focused and specialized education compared to public schools, such as college preparation or specialization in a certain field.
Likewise, private schools require tuition, another aspect that differentiates them from public schools. As a result, private schools are often reserved for wealthier families and those who are able to afford to have their children attend an expensive school. Though most private schools in Hawai'i (though not all) are non-profit and funds are funneled back into maintaining the school,5 private schools may be considered inaccessible to many Hawaiian families due to the already high cost of living on the islands.
In terms of cost, the average tuition for a private high school in Hawai'i is $17,061/year, with the lowest being St. Anthony School's $5,000/year and the highest being Hawai'i Preparatory Academy's $55,000/year.6
Regardless, there are many great private school options for families able to make the investment, including religious or parochial schools, Waldorf schools (which blend the arts into all aspects of education7), Montessori schools (which are student-led guided methods of education that emphasize caring for others, leadership, and nourishing environments8), international baccalaureate (IB) schools, and other unique private institutions.
According to Niche.com (and from hundreds of reviews), the top 5 private schools in Hawai'i include:9
3. Asia Pacific International School - Hawai'i
4. Hawai'i Preparatory Academy
5. Seabury Hall
'Iolani School via International Education and Student Service
Charter Schools
Operating more like public schools, charter schools are also an option for families in Hawai'i. These schools are operated by independent boards under the Hawai'i State Public Charter School Commission,10 and offer tuition-free education for students from kindergarten to 12th grade. Some charter schools around Hawai'i even offer free preschool programs in what are known as "early learning deserts," where there is a lack of affordable childcare services in certain areas.11 As a result, charter schools are a great option for many families due to the unique free (or affordable, at the least) programs and services that aren't offered by public or private schools.
There are a variety of charter schools that focus on different aspects of education or offer different methods of learning, including in-person-focused education, blended face-to-face/online education, STEM or STEAM (including the Arts) education, Kaiapuni or Hawaiian language and cultural emphasis, problem-solving project-based education, and more.12 Due to this more diverse selection of learning methods, charter school education may be a great pick for families who think their children would benefit from a non-traditional method of education.
However, what has traditionally set charter schools apart from public and private schools is their general lack of funding, which leads charter schools to have less access to educational resources and facilities.13
According to Niche.com (and hundreds of reviews), the top 5 charters schools in Hawai'i are as follows:14
1. Hawai'i Technology Academy Public Charter School
2. University Laboratory School
3. Myron B. Thompson Academy Public Charter School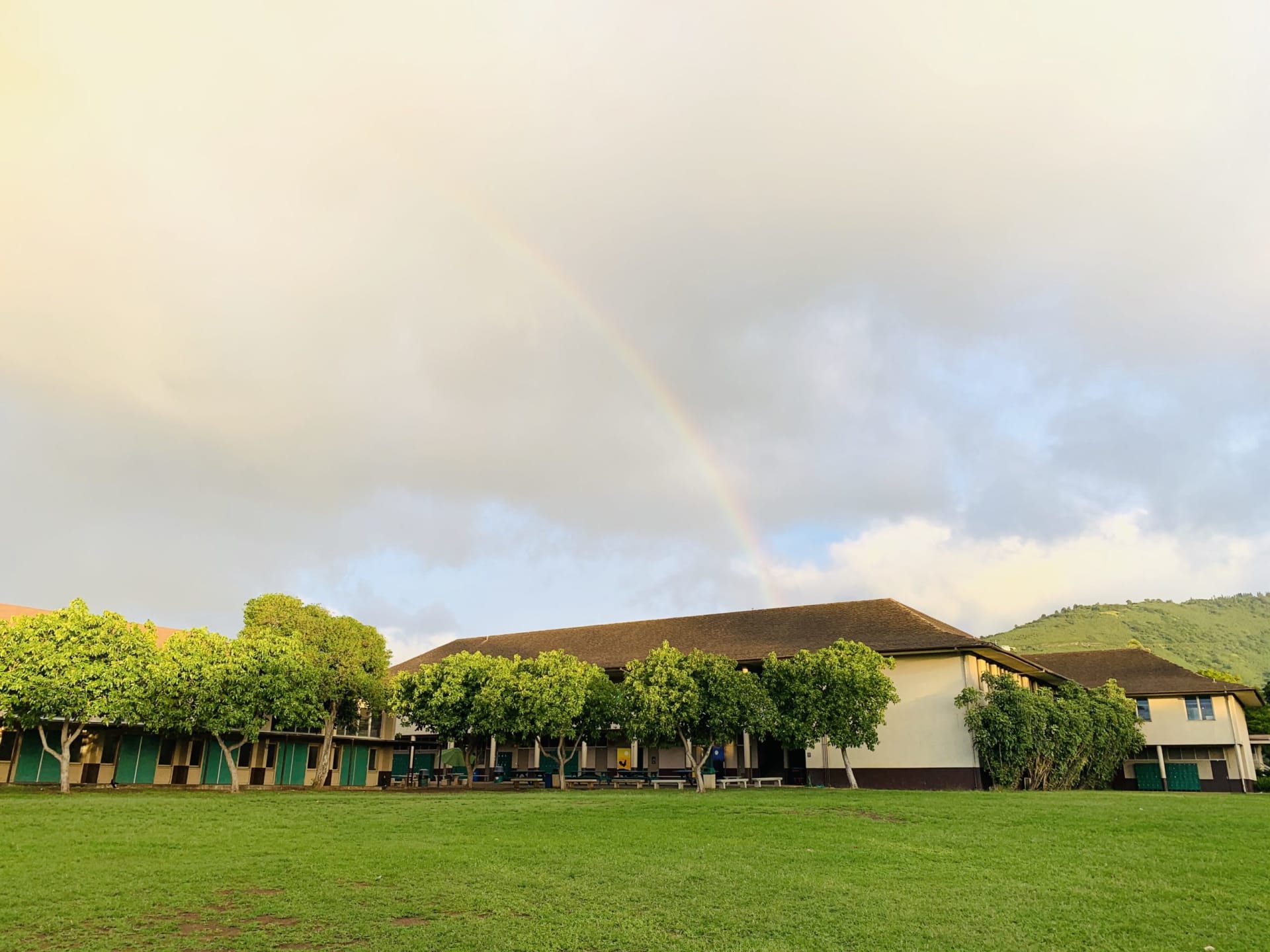 University Laboratory School via University Laboratory School


Colleges/Universities
Whether you're a local or an out-of-state prospective college student, there are many higher education options around Hawai'i. Though there are private universities in Hawai'i, the dominant university culture lies within public universities, and specifically within the University of Hawai'i system. In fact, the number 1 university in Hawai'i according to Niche.com (in addition to thousands of reviews) is overwhelmingly the University of Hawai'i at Manoa, which also happens to be the largest university in all of Hawai'i with over 19,000 students (14,000 undergraduate and almost 5,000 graduate).15
Likewise, the numbers 2 through 5 spots in the top 5 colleges in Hawai'i all go to community colleges (according to Niche.com). These top 5 spots are as follows:16
1. The University of Hawai'i at Manoa
4. Kapi'olani Community College
As for private universities, the top 5 are as follows:17
1. Brigham Young University - Hawai'i
2. Chaminade University of Honolulu
4. University of Phoenix - Hawai'i
5. Pacific Rim Christian University
In terms of cost, residents of Hawai'i get major discounts on public university tuition. Hawai'i's community colleges generally hover around the same price, which is an average of roughly $5,200/year (though in-state tuition will be lower and out-of-state tuition will be higher).18 For public universities, the average in-state tuition was around $7,284/year, with the University of Hawai'i at Manoa being the most expensive at roughly $11,304/year19 (out-of-state being a much steeper $33,336/year20). Private universities, on the other hand, saw an average tuition of $17,230/year,21 with the most expensive being Hawai'i Pacific University at $29,550-$35,040/year22.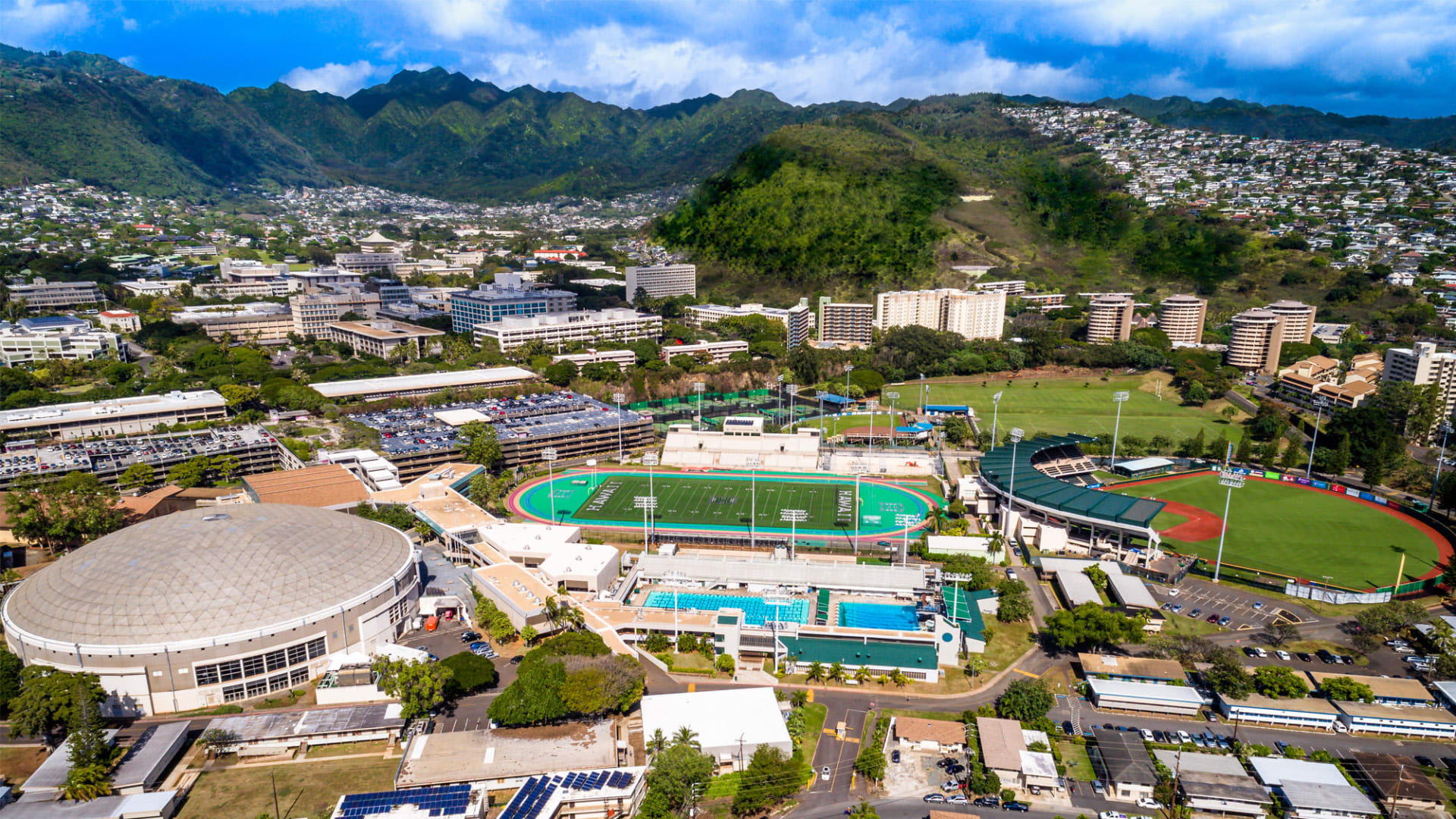 The University of Hawai'i at Manoa via Hawai'i Public Radio
Conclusion
There are endless options for education across Hawai'i, from preschool programs all the way up to university. Some of these options are free of cost, while others will require tuition, so being able to plan ahead and better understand your options can hopefully help you figure out which course of action is best for you and your family.
We hope this short guide can help you get a better grasp of the educational systems around Hawai'i, whether you're a local or new to the islands. Regardless, education can be a daunting institution to maneuver, so be sure to exercise all of your options, and don't be afraid to try something new! Traditional educational routes may be the path that most people take, but a non-traditional approach may be something that you and your family will find worthwhile and beneficial in the long run.
Sources:

1 Real Estate And Living Hawai'i, "K-12 Schools in Hawai'i: Private vs. Public." 2022.

2 Real Estate And Living Hawai'i.

3 Hawai'i State Department of Education, "Complex Area directory."

4 U.S. News & World Report, "Best High Schools in Hawaii." 2022.

5 Real Estate And Living Hawai'i.

6 Private School Review, "Hawaii Private High Schools By Tuition Cost." 2022.

7 Association of Waldorf Schools of North America, "Waldorf Education: An Introduction." 2022.

8 American Montessori Society, "What Is Montessori Education?" 2022.

9 Niche.com, "2023 Best Private High Schools in Hawaii." 2022.

10 Hawai'i State Department of Education, "Charter Schools." 2022.

11 Turbeville, Sheryl. "A Different Way to Learn: Hawaii's Public Charter Schools." Hawai'i Parent Media, 2022.

12 Turbeville.

13 Turbeville.

14 Niche.com, "2023 Best Charter Schools in Hawaii." 2022.

15 The University of Hawai'i, "UH Manoa: At a Glance." 2022.

16 Niche.com, "Colleges in Hawaii." 2022.

17 Niche.com, "2023 Top Private Universities in Hawaii." 2022.

18 Community College Review, "Hawaii Community Colleges By Tuition Cost." 2022.

19 CollegeCalc, "Hawaii Public Colleges, Cost and Affordability for 2022." 2022.

20 The University of Hawai'i at Manoa, "Cost of Attendance." 2022.

21 CollegeCalc, "Hawaii Private Colleges, Cost and Affordability for 2022." 2022.

22 Hawai'i Pacific University, "Cost of Attendance." 2022.