Hawai'i Kai is a gorgeous and sprawling residential community located on the Southeastern/Easternmost tip of O'ahu, and is likewise home to over 25,000 residents. However, this town is also known for its abundance of natural landmarks and activities that keep not only Hawai'i Kai residents busy but tourists and regular visitors from around the island as well. From several beaches to hikes, golf courses, restaurants, and beautiful sightseeing locations, there is so much that Hawai'i Kai has to offer.
To get you better acquainted with this popular area, we have compiled a list of some of the most popular activities in Hawai'i Kai that we recommend visiting/trying out. Whether you're an active person or someone that prefers to do more relaxed activities, there's sure to be something that appeals to you!
Hanauma Bay Nature Preserve
The Hanauma Bay Nature Preserve (also known as Hanauma Bay State Park) is one of the most popular places to visit in Hawai'i Kai, especially for snorkeling. Given that Hanauma Bay is home to a rich marine ecosystem with various reefs and indigenous fish species, Hanauma Bay is an important wildlife preservation area for the City of Hawai'i Kai and the City of Honolulu. In fact, by law, visitors are required to keep their distance from the coral in the bay, as well as respect and stay away from touching the marine life to minimize harm to the ecosystem. Likewise, all visitors are required to watch an educational video prior to each visit.
However, if you have the opportunity to go snorkeling in this historic volcanic cone, you will be amazed by this natural cove's beauty. This is a special experience for tourists and locals alike, and this is proven by how popular this activity is.
To learn more about fees, hours, and other rules for visiting the Hanauma Bay Nature Preserve, you can visit their website here.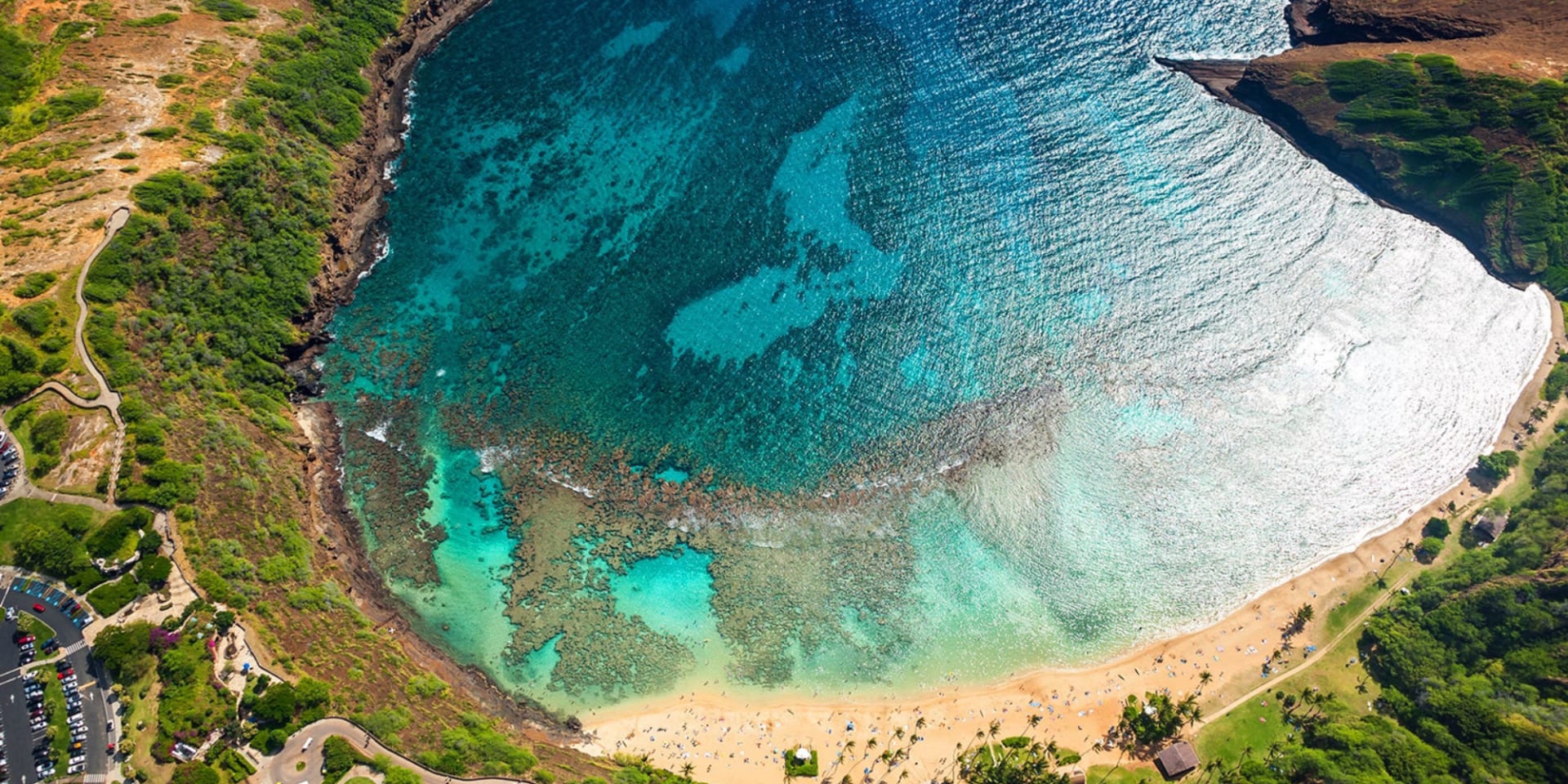 Photo: Hotels.com
Koko Head Hike
Koko Head Hike is one of the most popular hikes in the Hawai'i Kai area, known for incredible views overlooking the city below, Honolulu in the distance, and the surrounding Pacific Ocean. The summit reaches a height of 1200 feet above its base, and the hike stretches for 1.5 miles (around 30-60 minutes of hiking) up 1,048 railroad-like steps. Though this hike is considered easier than others on the island, it can be challenging for those who are not used to constant gains in elevation with no elevation breaks (though you can stop to catch your breath on the sides of the steps). Regardless, this hike is sure to provide breathtaking views if you make it all the way to the peak, especially if you catch the O'ahu sunrises or sunsets.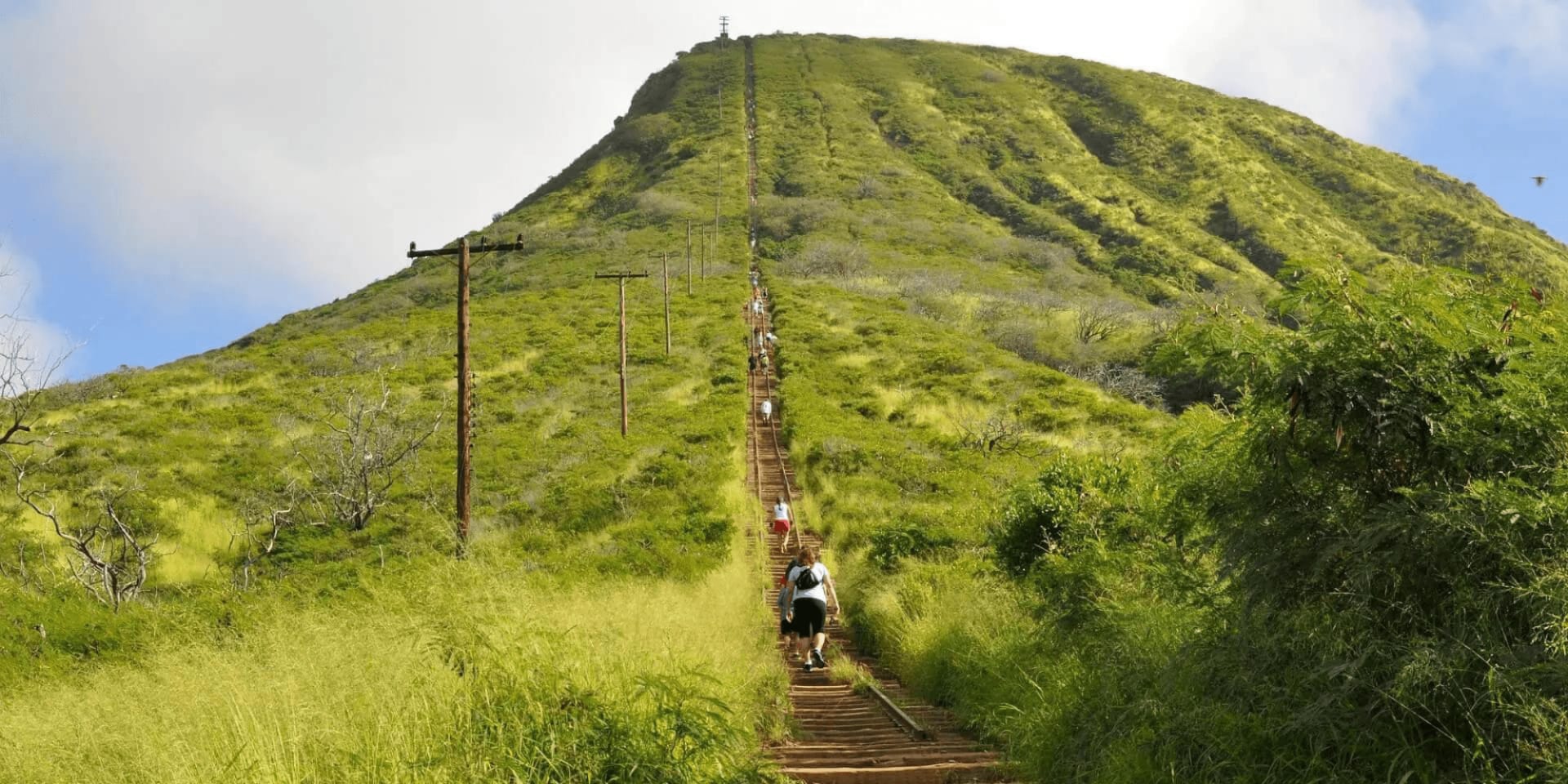 Photo: thenorthernboy.com
Makapu'u Beach Park
Arguably the most well-known and popular beach in the Hawai'i Kai area is Makapu'u Beach Park, which is located at the Easternmost point of O'ahu. This 1,000-foot-long beach is especially popular for bodysurfing, and it is likewise known for its signature high lava rock cliffs and crescent beach shape.
Though this beach is known for being a popular bodysurfing location, during the winter months when the waters erode the beach, expose large rocks, and generate powerful rip currents, lifeguards have to make rescues here every year (Hawai'i Beach Safety, "Makapu'u Beach"). As a result, it's important to make sure you know the conditions of the Makapu'u Beach's waters prior to visiting the beach, which you can monitor here.
As for other features of Makapu'u Beach Park, there are restrooms, a free parking lot (as well as parking across the road from the beach near the cliff side), and outdoor showers available for public use. If you love the beach and have the opportunity to visit, this is a gorgeous spot to hang out in the pale sands and enjoy the surrounding scenery.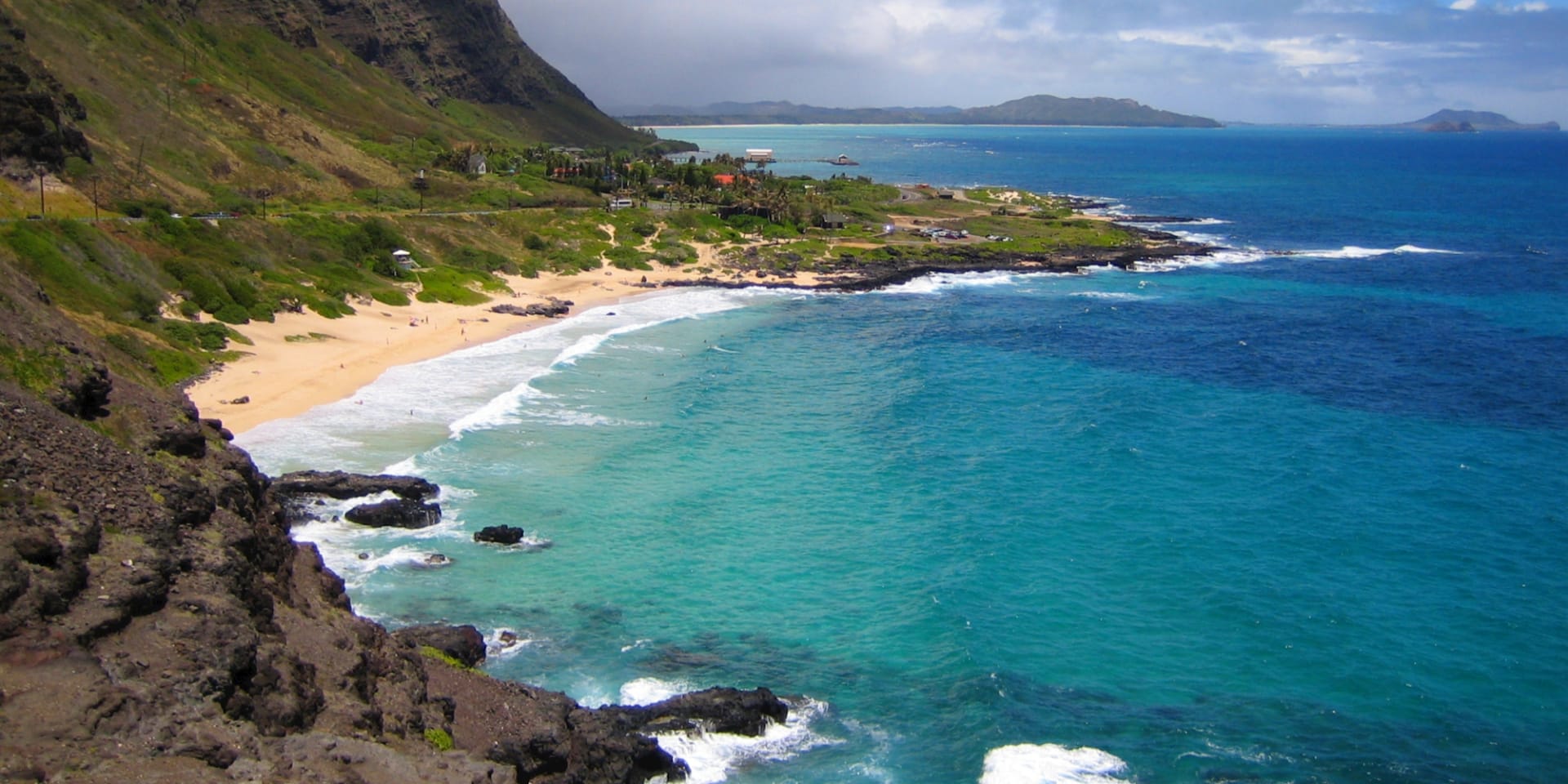 Photo: Coastal and Marine Hazards and Resources Program (USGS)
Makapu'u Lighthouse Trail
The second part of the Makapu'u Beach Park experience is the Makapu'u Lighthouse Trail, which is located on the Southern portion of Makapu'u Beach Park. This incredibly popular hike has an excellent reward, with hikers at the summit being able to see the famous Makapu'u Lighthouse landmark, the beach below, Koko Head, and even the neighboring islands of Moloka'i and Lana'i on clear visibility days.
This hike is considered easier than others on the island, with elevation reaching 500 feet, the length of the hike being about 1 mile each way (2 miles total), and the duration being between 60 and 90 minutes on average. As for the conditions of the hike itself, the trail is mostly paved, hilly, and hot, so be sure to pack plenty of water and wear plenty of sunscreen.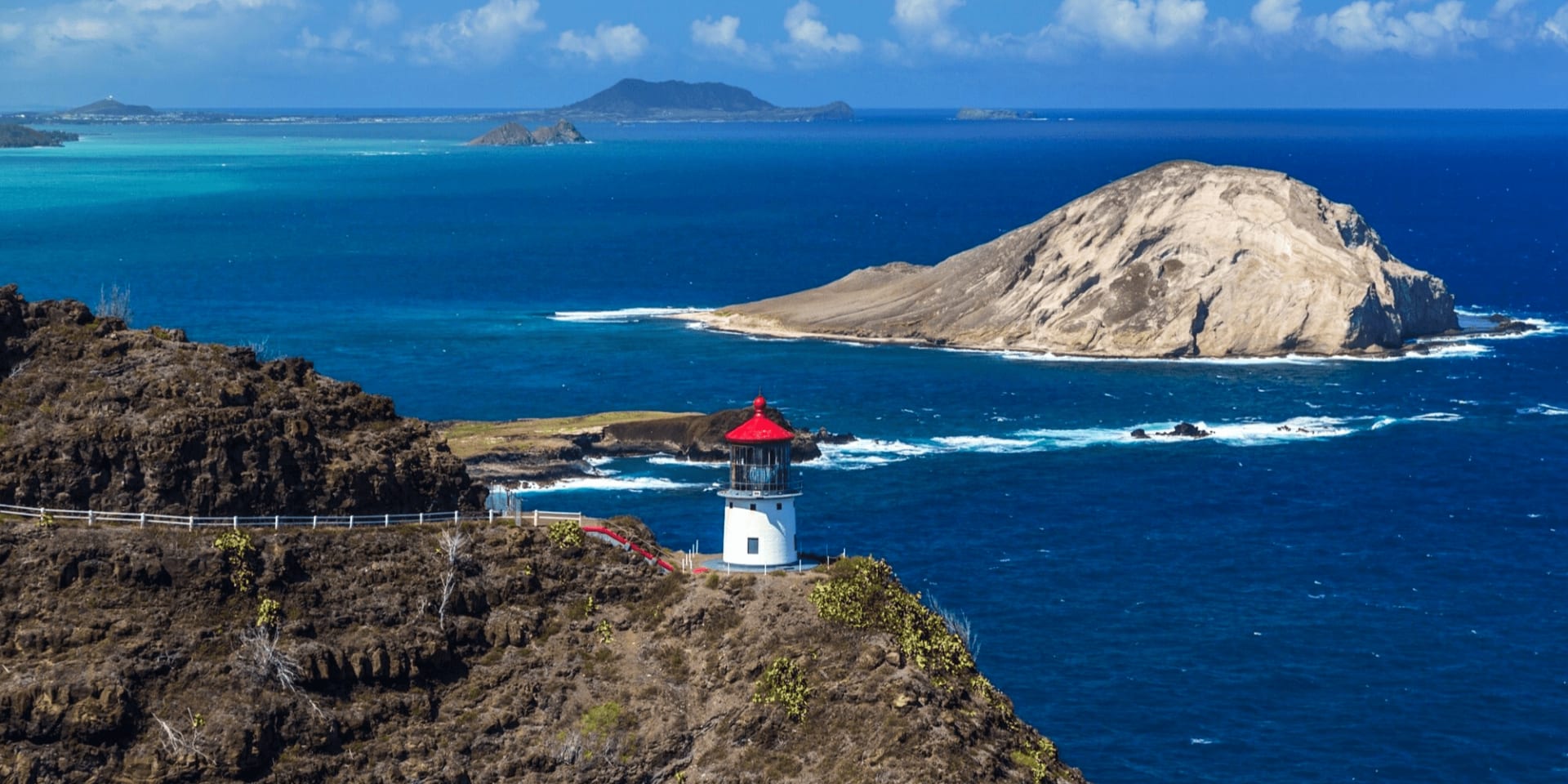 Photo: Tor Johnson of the Hawai'i Tourism Authority
Maunalua Bay Beach Park
While not one of the largest nor most popular beaches in Hawai'i Kai, the Maunalua Bay Beach Park is a nice spot to stop and eat dinner or have a picnic with friends and family. The oceanfront picnic tables look out onto the calm water, with plenty of open grassy space for pets to run around and for children to play.
However, what this beach park is most well known for is being a great spot to catch the breathtaking colorful sunsets that fall over Diamond Head every night. There is a decent-sized parking lot situated near the main area of Hawai'i Kai on Kalaniana'ole Highway (between the entrances to Hawai'i Kai Drive and Keahole Street), and here you will find many people who will park their cars to watch the sunsets.
Likewise, this is a popular spot to take boats out due to the extremely calm nature of the bay's water. Kayaks, canoes, paddleboards, and more are very common, as are larger boats that get parked in Hawai'i Kai's plentiful residential and marina docks.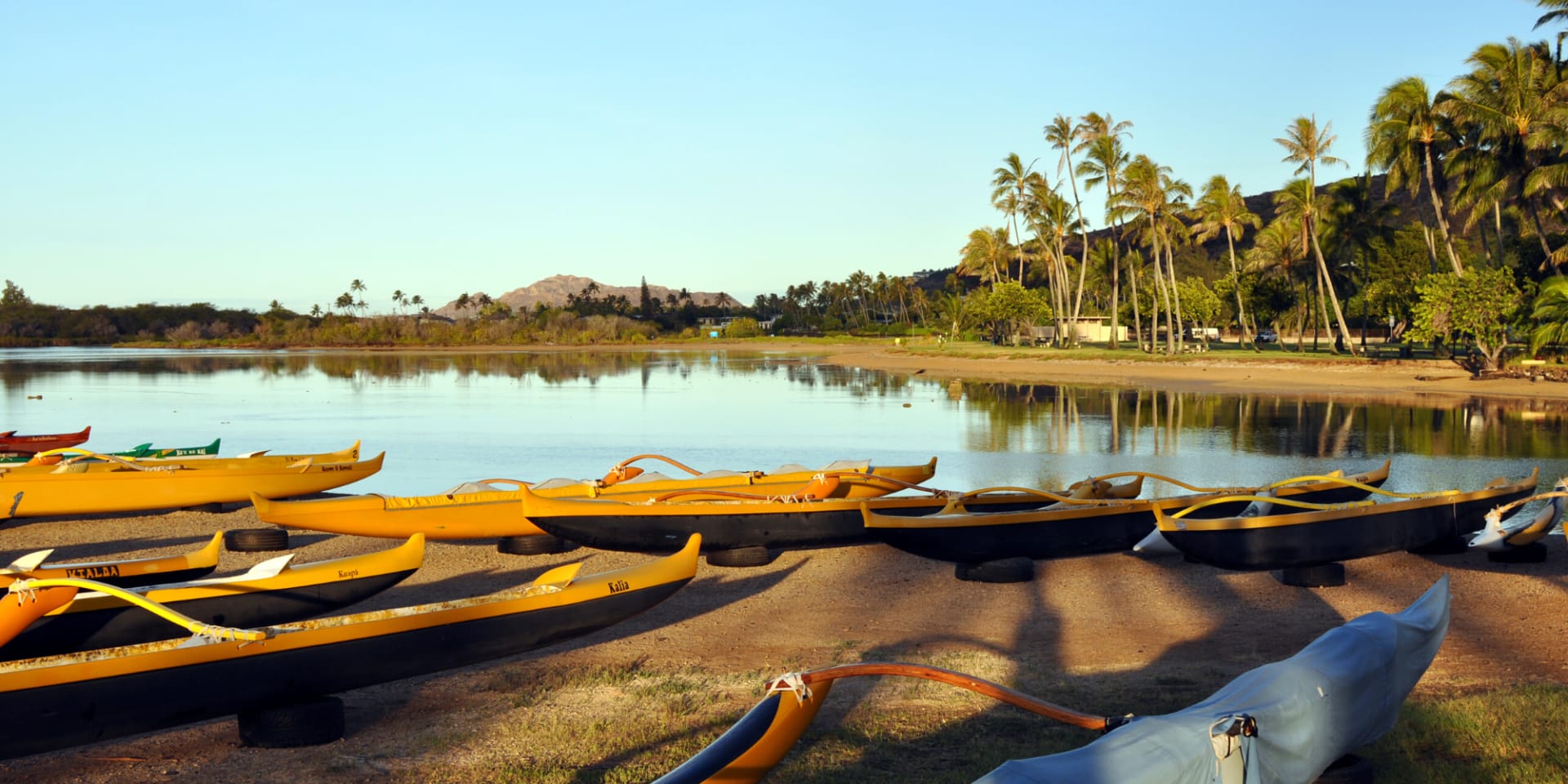 Photo: Thousand Wonders
Hawai'i Kai Golf Course
Located near the Eastern border of Hawai'i Kai is the Hawai'i Kai Golf Course, which is a gorgeous course set between mountain ridges and next to popular Hawai'i Kai residential communities. This golf course offers several experiences, including a Champions Course for more experienced golfers, an Executive Course Par 3 for a less intense golfing experience (great for beginners), and a Golf Academy for golfers of all experience levels. Likewise, this golf course features a driving range perfect for honing your abilities.
The Hawai'i Kai Golf Course also offers a snack shop and beverage cart on weekends from 9 AM to 3 PM, as well as a restaurant that is open weekdays from 10 AM to 4 PM and weekends from 9 AM to 5 PM. You can view their menus and weekly specials on their website here.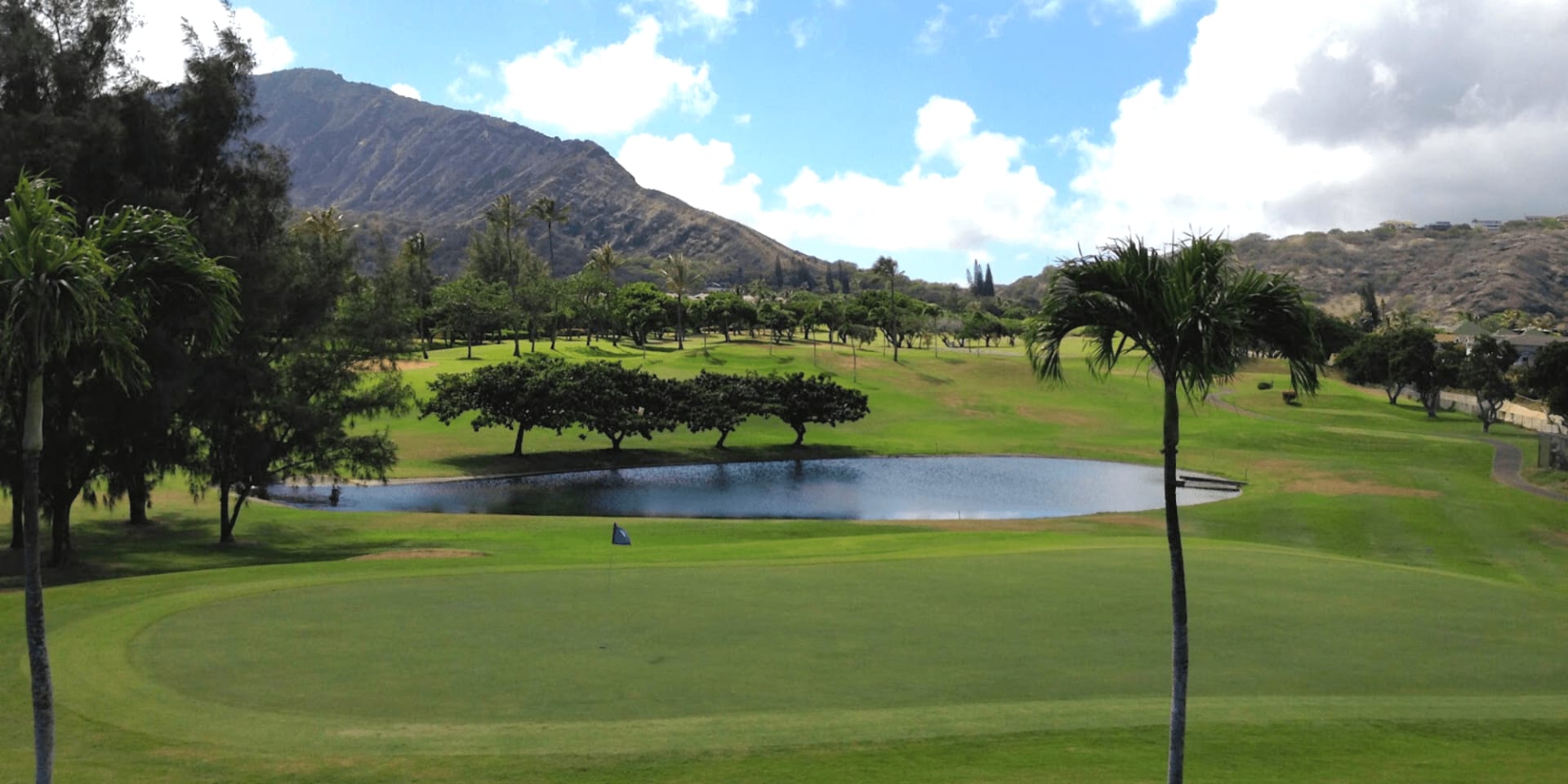 Photo: Great Eats Hawai'i
Spitting Caves
The Spitting Caves are more of a hidden gem as they are tucked back into the residential sub-neighborhood of Portlock, but this gorgeous sightseeing location is definitely worth the visit. The Spitting Caves' name refers to the cave systems that exist at the sea level of the wavy cliffsides. However, it is highly encouraged that you do not try to swim here (especially during large swells) since the water creates an underwater current that sucks swimmers into the caves (although these advisories don't stop people from diving off the cliffsides into the water). Unfortunately, as a result, many fatal accidents have taken place here.
However, when careful about walking around the rocks and keeping your distance from the water, these uniquely-shaped towering cliffs of wavy rocks create a spectacle unlike anything you'll see in other places in the area. Be sure to wear comfortable shoes that provide good traction, though, as the rocks can be slippery!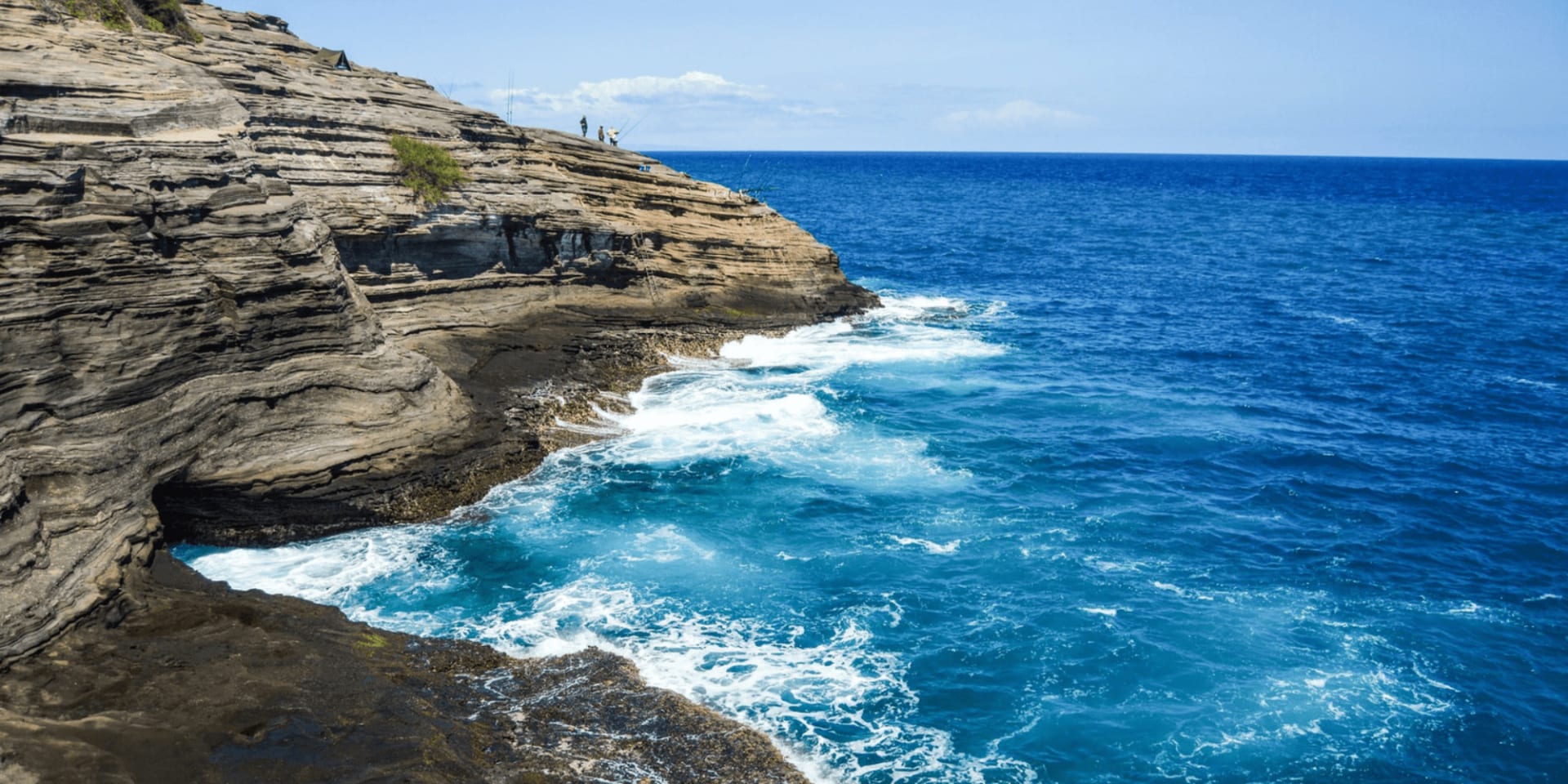 Photos: Patrick Nichols on Outdoor Project
Hawai'i Kai Towne Center & Koko Marina Center
Next on our list are a collection of popular shopping and dining spots located in the center of Hawai'i Kai- The Hawai'i Kai Towne Center and the Koko Marina Center.
The Hawai'i Kai Towne Center is located on Keahole Street and encompasses the area from Kalaniana'ole Highway all the way to Costco, which includes a Towne Center, a Corporate Plaza, and an Executive Plaza. The main dining and shopping area, the Towne Center portion, contains a variety of large stores like City Mill, Ross Dress For Less, and Costco, as well as restaurants and cafés like Starbucks, Sushi Man, Ramen-Ya, Raising Cane's, Koa Pancake House, and Taco Del Mar.
Located on the other side of the marina is the Koko Marina Center, which is a collection of stores and restaurants lining Kalaniana'ole Highway and Lunalilo Home Road. The stores located here include Petco, Walgreens, and several smaller boutiques like Cookie's Clothing Co., Local Motion, and Outdoor Living O'ahu. The Koko Marina Center also hosts a variety of incredible restaurants like Assaggio's Ristorante Italiano, Greek Marina, Kim's Korean BBQ, Kona Brewing Co., Leonard's Malasadamobile, and Moena Sweets. Last, but definitely not least, is the Consolidated Theatres sitting at the center of the Koko Marina Center, which is an incredibly popular spot for catching the latest box office releases right in Hawai'i Kai.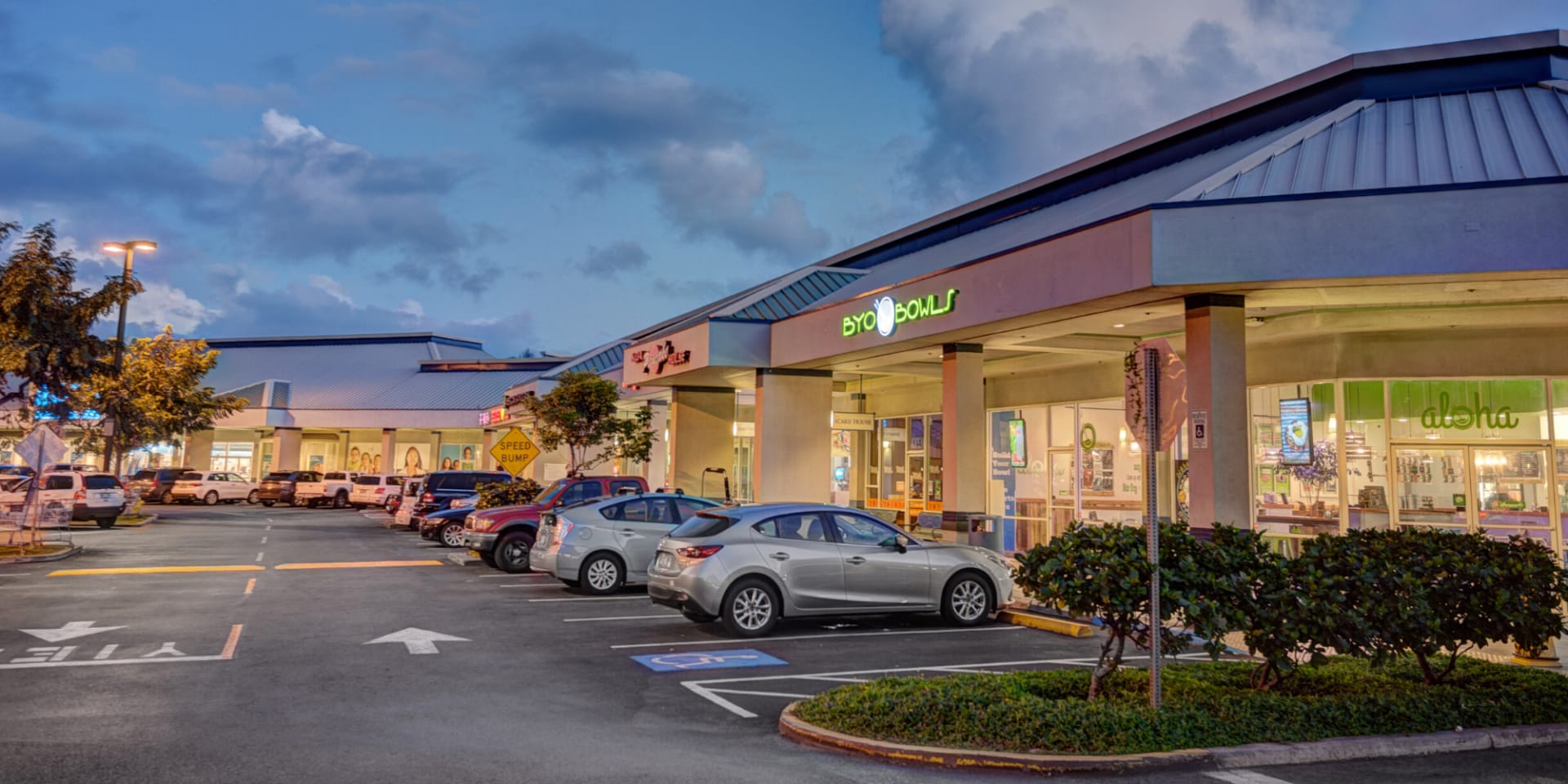 Photo: The Hawai'i Kai Towne Center
Sandy Beach
The final entry on our list is Sandy Beach, which is a local favorite beach located on the Eastern coastline of the island. This beach is known for strong currents and aggressive waves, thus swimming or bodysurfing is highly discouraged unless you are very experienced. Nonetheless, this beach is long and is a great spot to catch beautiful sunrises over the sprawling and sparkling blue waters. The beach is backed by a very large park known as Wawamalu Beach Park, which features a large and flat area of grass popular for flying kites, picnics with friends and family, and playing with pets.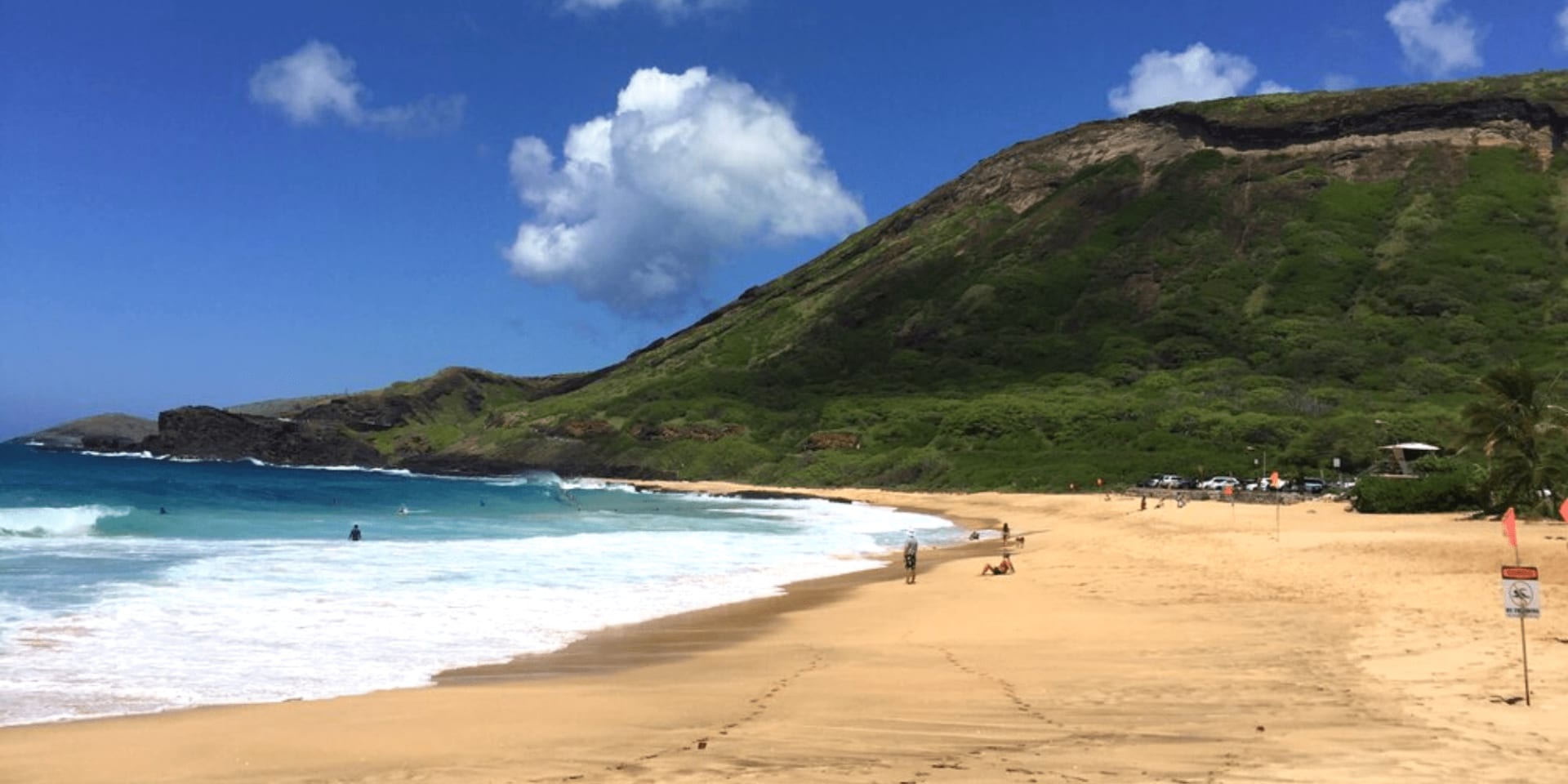 Photo: Nancy S. on Yelp