Cover Photo: Piggy Smalls
Kaka'ako is considered one of the most popular up-and-coming neighborhoods in all of O'ahu, and this can be attributed to the consistent additions of not only new condominiums and residential developments, but also new cafés and dining spots. From trendy cafés to poke bars, pubs, and butcher shops, Kaka'ako is home to endless unique eatery options for a range of cravings, dietary restrictions, and lifestyles.
As a way to introduce you to some of the most popular spots in the area, we have compiled a list of some of the top restaurants in Kaka'ako that you need to try out. This display of incredible food artistry is sure to leave you hungry and excited to seek out some of these hot food spots, so feel free to check out the hyperlinks to get to know these restaurants more!
Hamada General Store
The first entry on this list is known for incredible plate lunches, sandwiches, burgers, and dishes- Hamada General Store. Located at 885 Queen Street, Hamada General Store has earned a loyal customer base due to its well-known and flavorful dishes like the kimchi Reuben, ahi or chicken katsu, HGS burger, and braised beef loco moco. Though the prices may be a bit higher than at other food spots around the area, the quantity and quality of food you receive more than makes up for the price.
For a full list of their menu and catering items, as well as gift shop items, you can visit their website here. Hamada General Store is open Mondays through Saturdays from 9 AM to 2 PM and is closed on Sundays.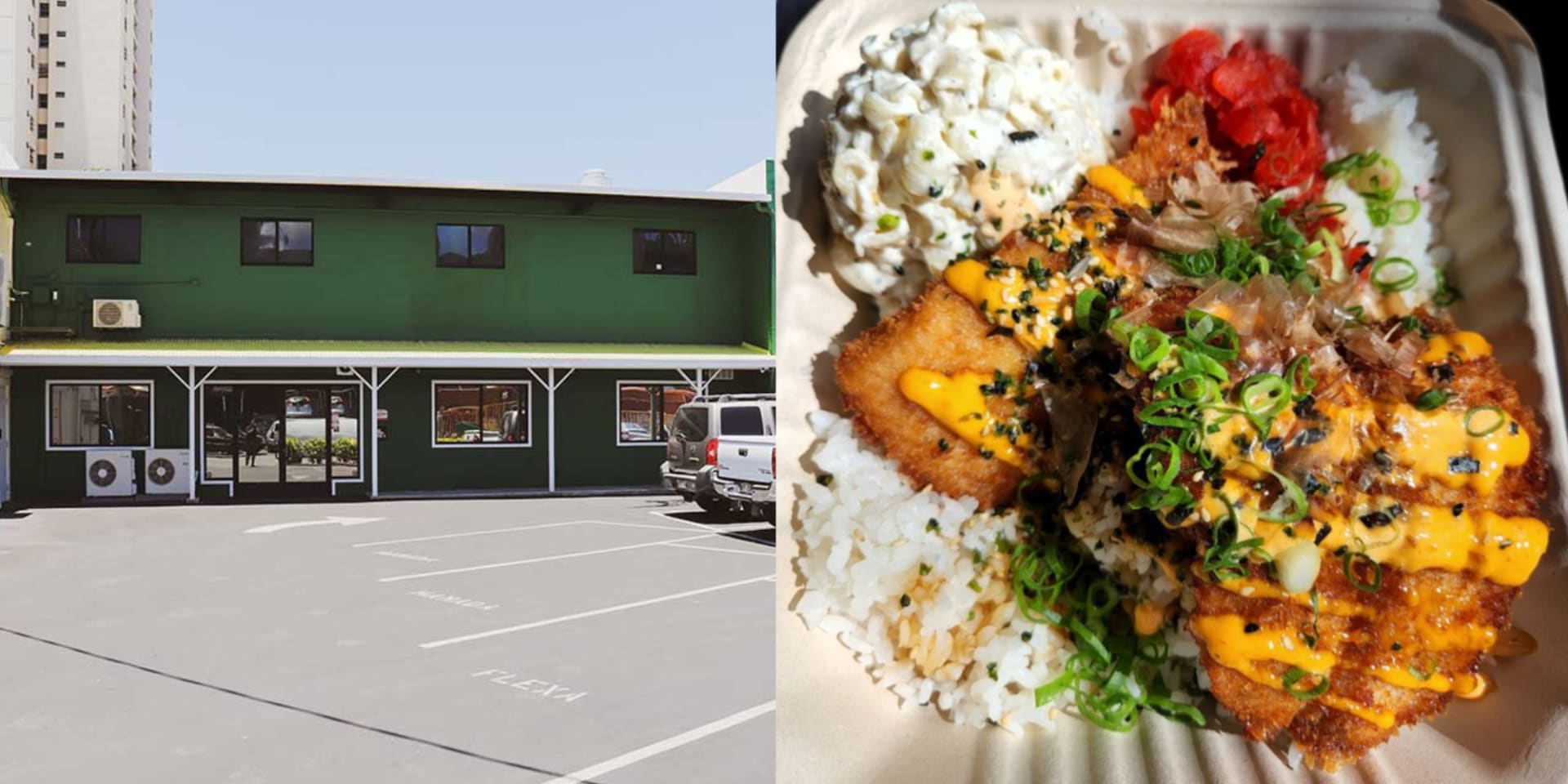 Photos: Hamada General Store / Janelle O. on Yelp
Scratch Kitchen
Located at 1170 Auahi Street Suite 175 within the Ward Shopping Mall, Scratch Kitchen is an eatery that specializes in breakfast and brunch foods with a Hawaiian twist (though they also serve classic lunch and dinner options). Some of their most popular dishes include french toast, pork adobo loco moco, cider braised pork, fried chicken on waffles, and steak and eggs. To view their full brunch and dinner menus, you can visit their website here.
Scratch Kitchen now offers dine-in, take-out, and food delivery options (via DoorDash, BiteSquad, and GrubHub), so people with all kinds of schedules can have a chance to try out this popular food spot's offerings. Not to mention, they are open all day, with their hours being 9 AM to 9 PM on weekdays and an even longer 8 AM to 9 PM on weekends.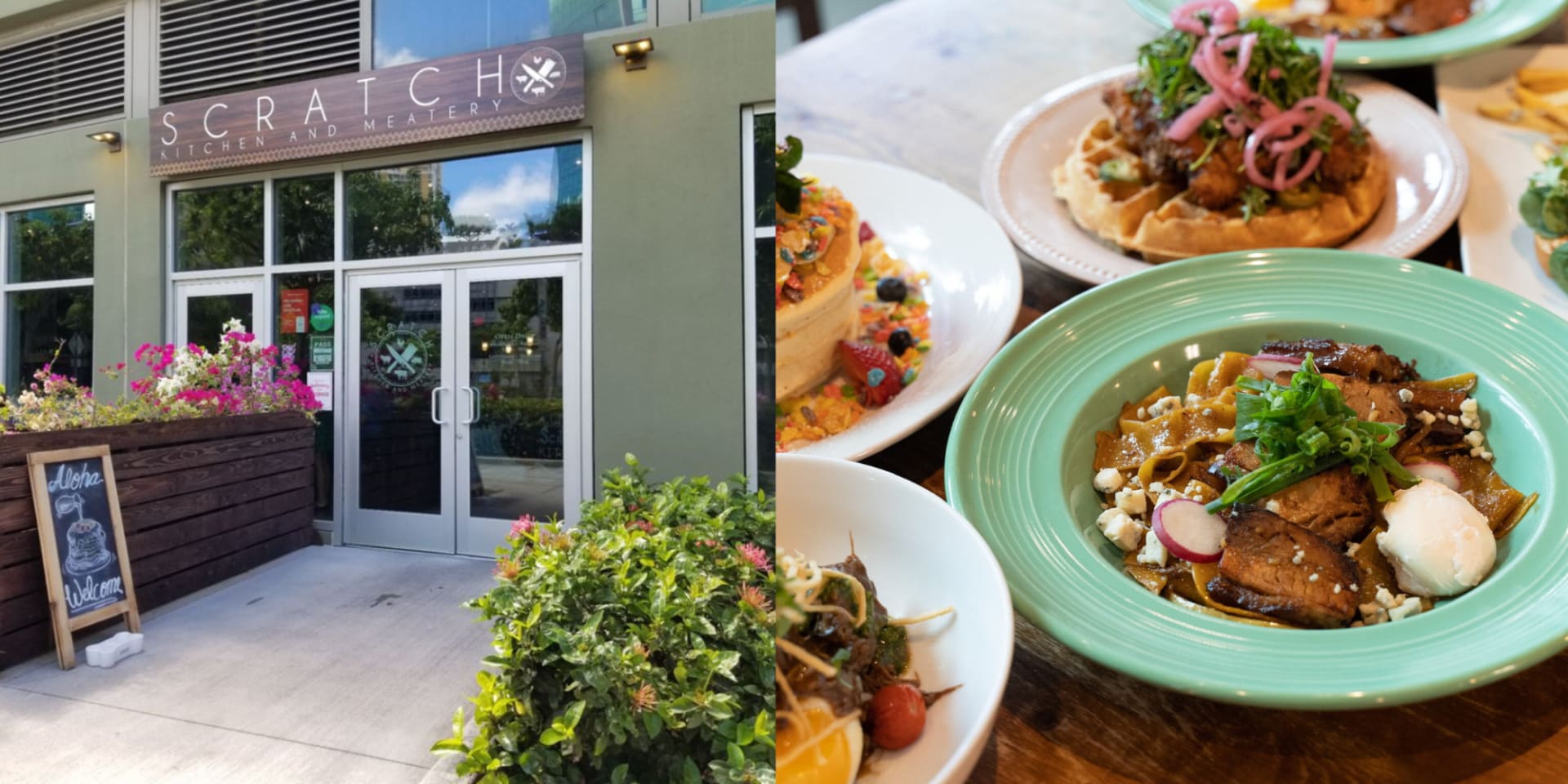 Photos: Nadine C. on Yelp / Scratch Kitchen
Rinka
Rinka (sometimes referred to as Japanese Restaurant Rinka) is located on the ground level of Ward Village's Ae'o condominium, the same as Ward Village's multi-story Whole Foods Market. Here, you will be served authentic and fresh Japanese cuisine from various sushi rolls to black tofu sesame, abalone in dashi, and washu steak.
On top of amazing food, Rinka is able to host private events as well as offers reservations online and take-out orders (though the take-out menu differs from the regular menus). As for hours of operation, they are open every day for lunch from 11 AM to 3 PM and for dinner from 5 PM to 10 PM.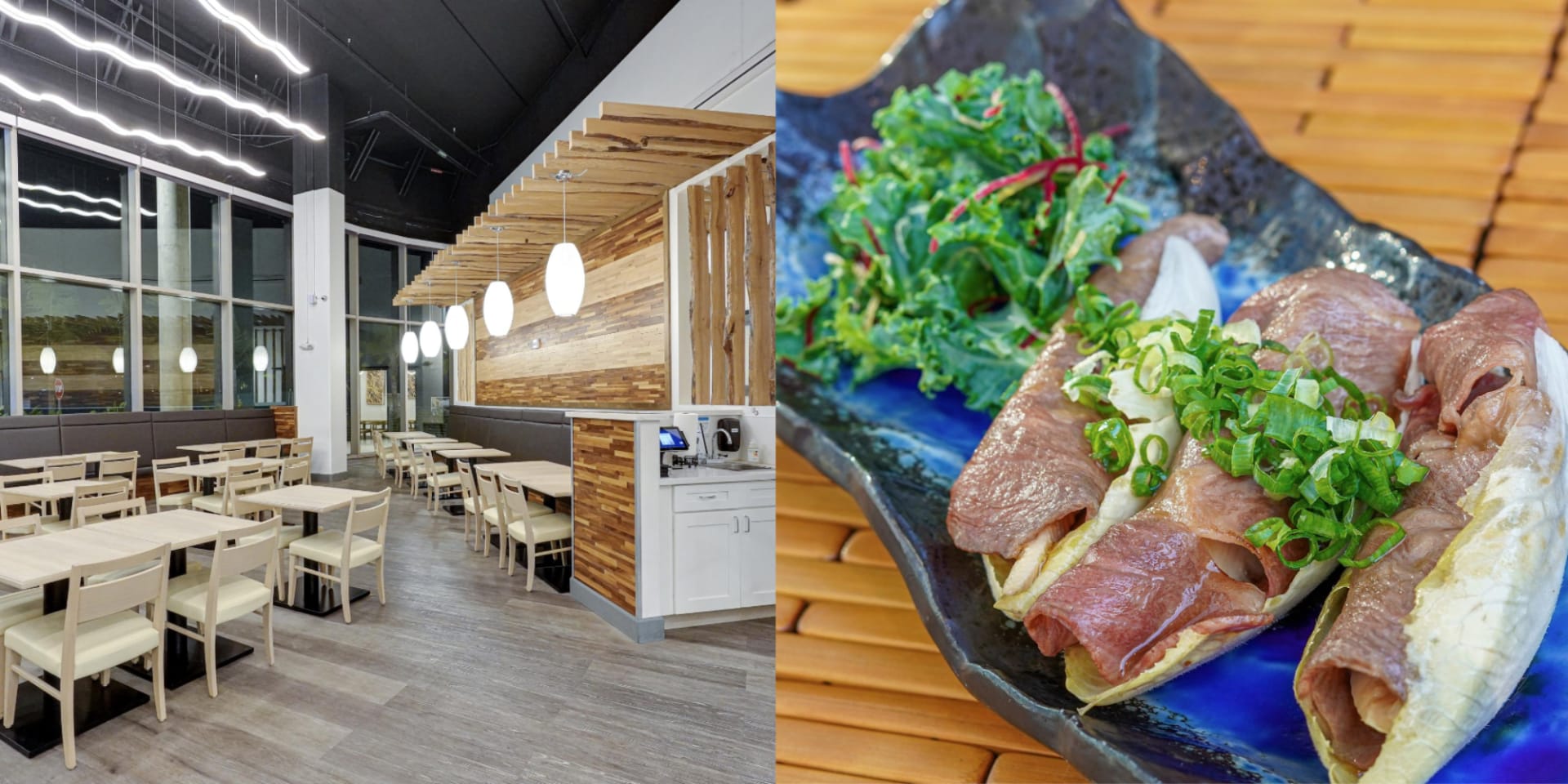 Photos: Rinka / Rinka
Piggy Smalls
Piggy Smalls is another popular food spot in Ward Village and is known for being a busy Vietnamese-fusion restaurant with flavorful and fresh menu items. Items such as le fried chicken, chicken pho, vegan pho, tea salad, and vegetable pho-strami are among the many popular entrees offered at this location.
As previously mentioned, Piggy Smalls is known for being quite busy, so calling ahead or making a reservation is highly encouraged. As for hours, it is open Tuesdays to Fridays from 5 PM to 9 PM, Saturdays from 10 AM to 2 PM for brunch and 5 PM to 9 PM for dinner, and Sundays from 10 AM to 2 PM only for brunch. Piggy Smalls is closed on Mondays.
For those who are unable to take the time to dine in, Piggy Smalls offers take-out and delivery options (via DoorDash or BiteSquad).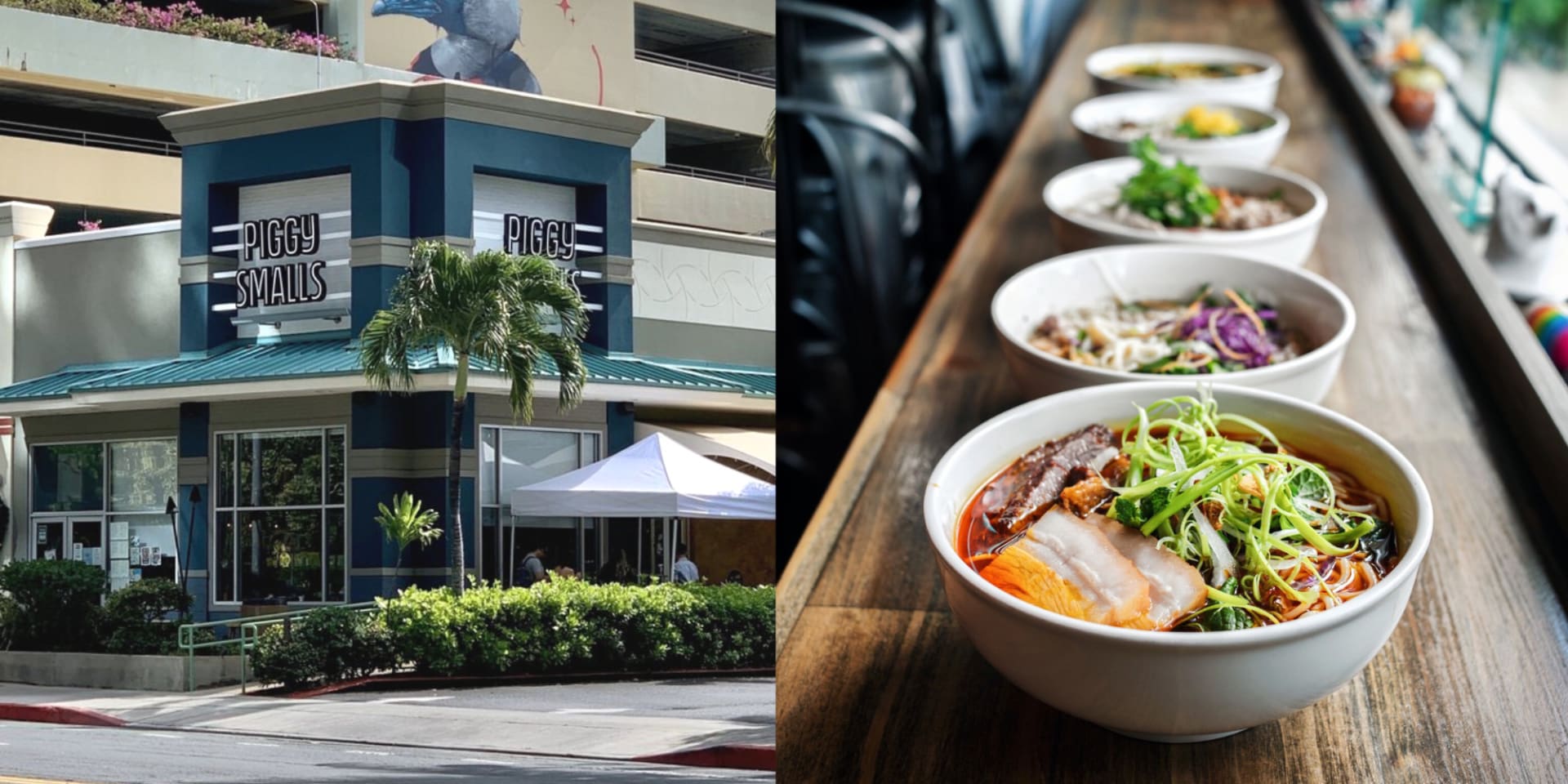 Photos: Takashi H. on Yelp / Piggy Smalls
Moku Kitchen
One of the most popular restaurants in Kaka'ako and within the bustling SALT At Our Kaka'ako is Moku Kitchen, an American semi-pub and bar-style restaurant focusing on bringing upcountry farming to downtown Honolulu's urban settings. This restaurant is extremely popular at night given the popularity of SALT At Our Kaka'ako during the night hours, so a reservation is highly encouraged especially if you are planning on dining in for dinner. Daily live music helps to create a comfortable atmosphere, although the busyness of the restaurant can make it a bit loud at peak dinner hours.
Some of the most popular menu items at Moku Kitchen are roasted squash ravioli, fish tacos, kale salad, truffle fries, and wild mushroom pizza. To view their full menu, you can visit their website here, and take-out orders can be made here. They are open daily from 11 AM to 9 PM, and happy hour is from 2 PM to 5:30 PM.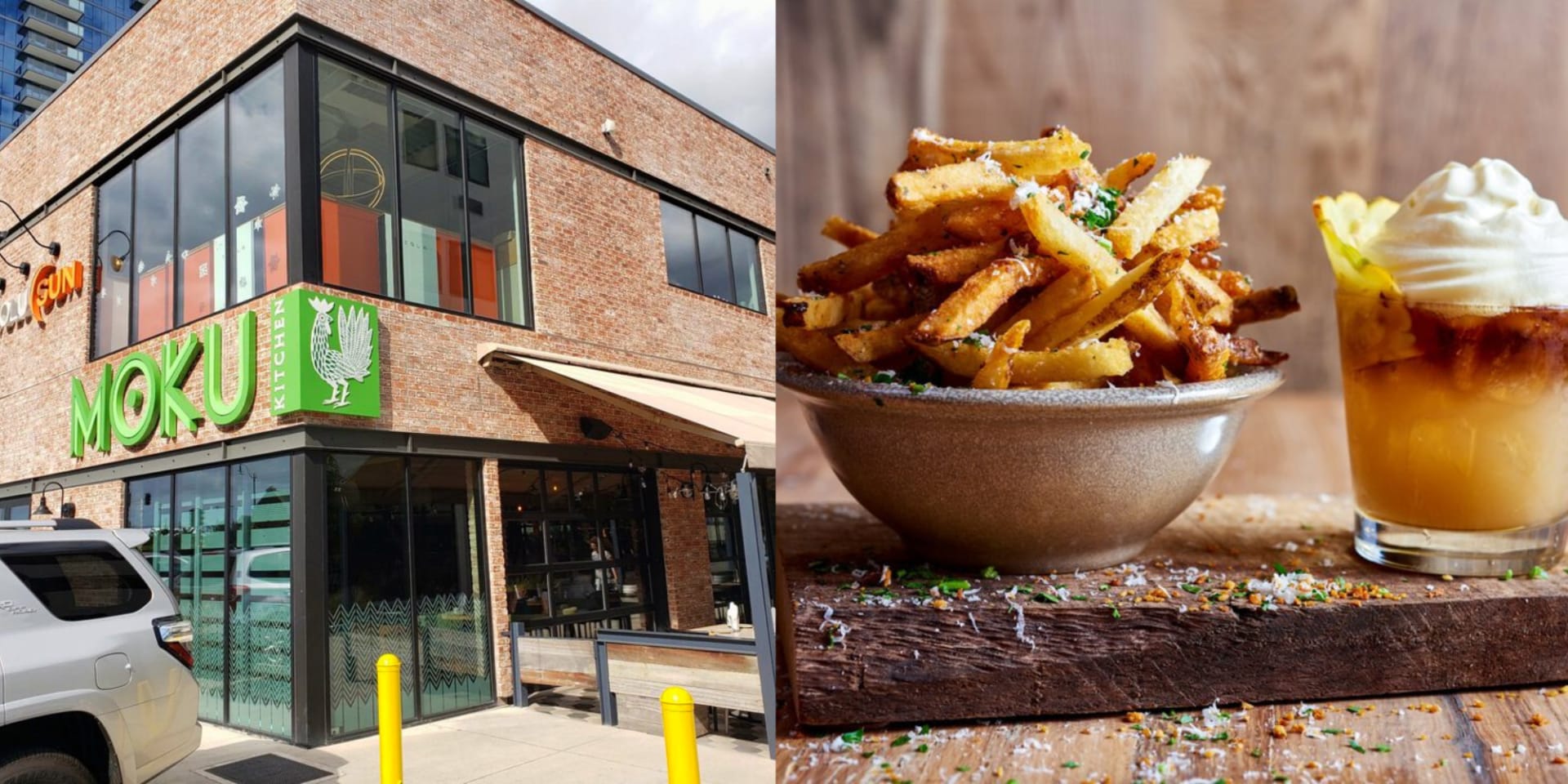 Photos: Mika Y. on Yelp / Moku Kitchen
Butcher & Bird
A local favorite for burgers and sandwiches, Butcher & Bird has been named by many locals as one of the best burger spots on the island. Also located within SALT At Our Kaka'ako, Butcher & Bird is not only a restaurant but a deli and meat shop for fresh butcher's goods, including gourmet meats, pork chops, steaks, housemade sausages, and more. As a result, the owner is very knowledgeable about meats and proves this through high-quality burgers and sandwiches.
Some of the most popular dishes at Butcher & Bird include the double cheeseburger, Italian combo sandwich, bacon mushroom swiss burger, and pastrami sandwich. This popular spot is open Tuesdays to Saturdays from 11 AM to 6 PM, Sundays from 11 AM to 4 PM, and is closed on Mondays.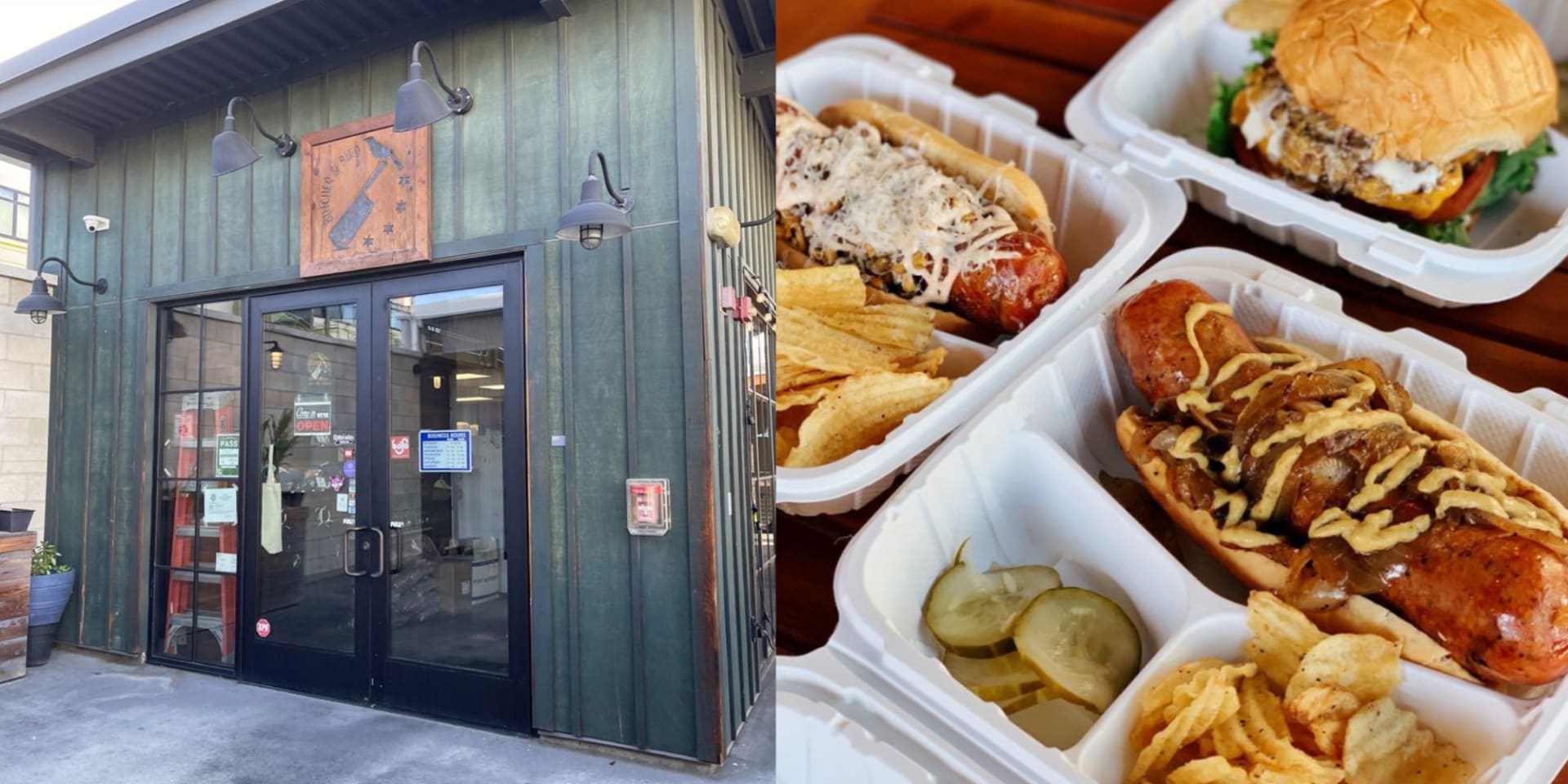 Photos: Irene M. on Yelp / Cindy P. on Yelp
1938 Indochine
The next entry on this list is located directly across Keawe Street from SALT At Our Kaka'ako and on the ground level of The Collection condominium- 1938 Indochine. This trendy eatery is run by restauranteur Kevin Aoki, who wanted this restaurant to feature strong Southeast Asian elements and influences from decor and atmosphere to the food. As a result, 1938 Indochine features many dishes inspired by cultures in Laos, Cambodia, Indonesia, Vietnam, and Thailand, all with a French flare inspired by the period called the "French Indochina." Some of the most beloved dishes at this restaurant include banh mi sliders, Thai beef brochette, chicken laap, morning glory chap chye, and mushroom curry.
1938 Indochine is open daily from 4 PM to 10 PM, also with a Sunday brunch from 11 AM to 2:30 PM. Ordering online for take-out is also an option for those who are unable to dine in.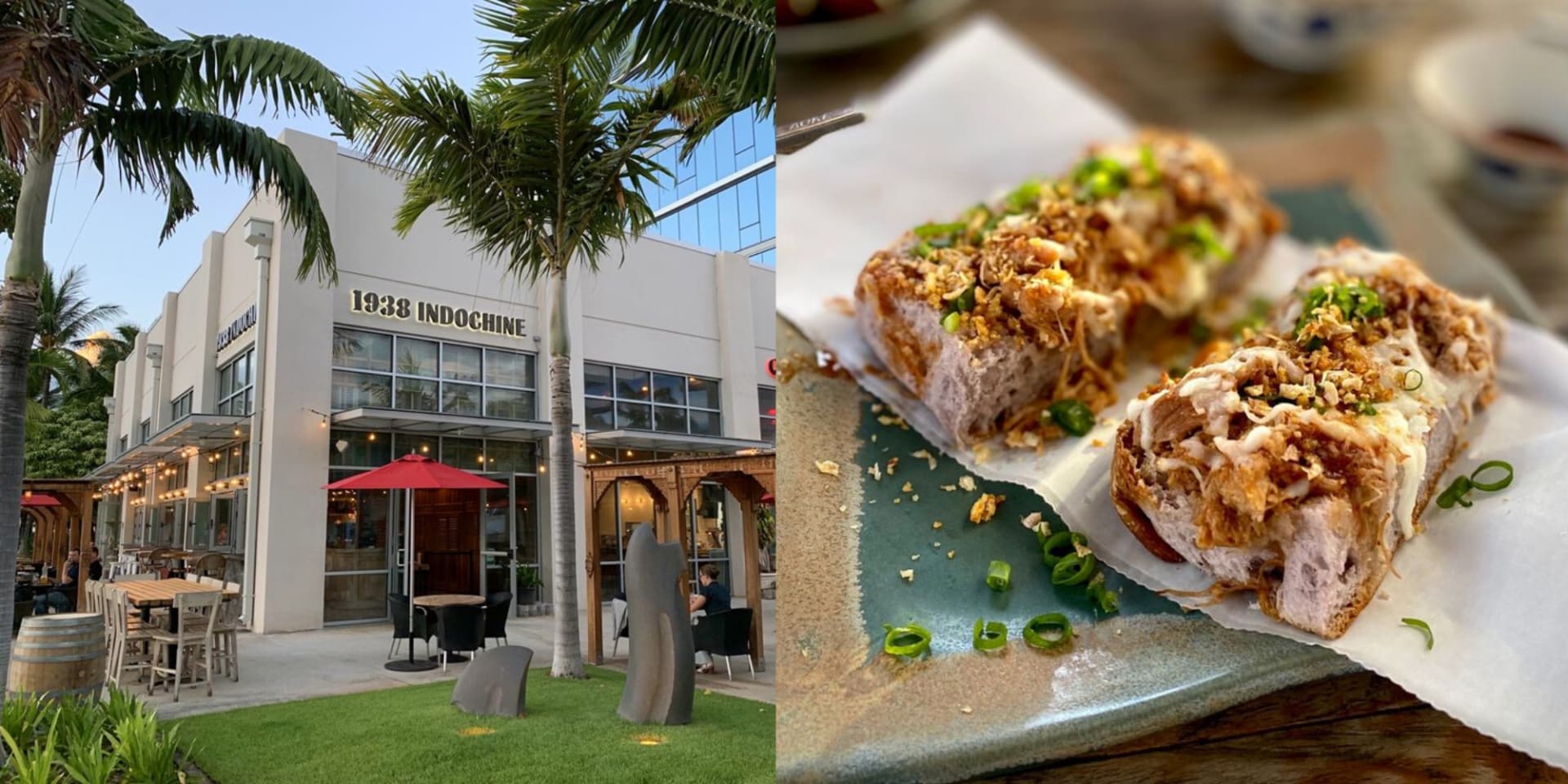 Photos: Alan T. on Yelp / Joann Y. on Yelp
Redfish
Run by Head Chef Reid Matsumura and Chief Food Officer Keoni Chang, Redfish is a restaurant by Foodland specializing in authentic and fresh customizable poke dishes. Fresh ahi, hamachi, salmon, and shrimp are just a few of the different poke options available to customers, and other foods and drink options are also offered. Feel free to check out these hyperlinks for a full list of their food items, poke items, and drinks.
Redfish's take-out menu can be found here, and delivery options are also available through DoorDash, GrubHub, BiteSquad, and UberEats. Their hours of operation are Sundays through Thursdays from 11 AM to 9 PM and Fridays and Saturdays from 11 AM to midnight. To dine in or pick up your order, head to SALT At Our Kaka'ako at 685 Auahi Street.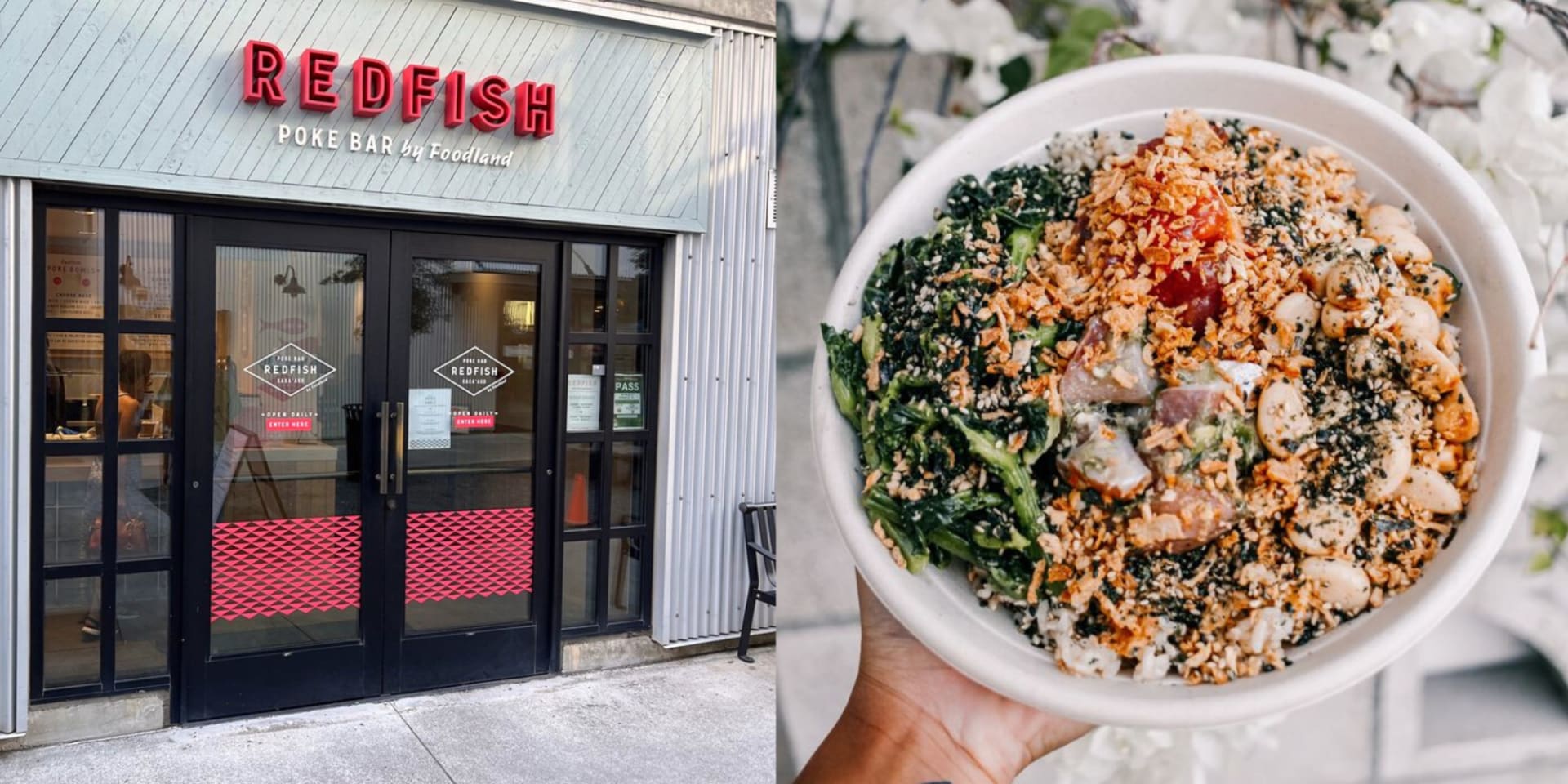 Photos: Allen N. on Yelp / Corina Q. on Yelp
Arvo
Last but definitely not least is Arvo, which is also located within SALT At Our Kaka'ako across from Moku Kitchen. Unlike most of the other entries on this list, this is a trendy café- and breakfast/brunch-centered food spot with menu items like loaded avocado toast, smoked salmon toast, a Halloumi Burger, and the Arvo green salad. For coffee drinks, Arvo's variety of options includes black coffees, lattes like vanilla, lavender, or charcoal lattes, ombre lemonades, and chamomile mint iced shakers. Their full menu can be found here, and their small gift shop can also be found online here.
For those who are unable to stop by and order in-store, Arvo offers an online ordering option for take-out via Clover. However, be sure to take note of their hours, as they begin at 8 AM and end at 2 PM daily.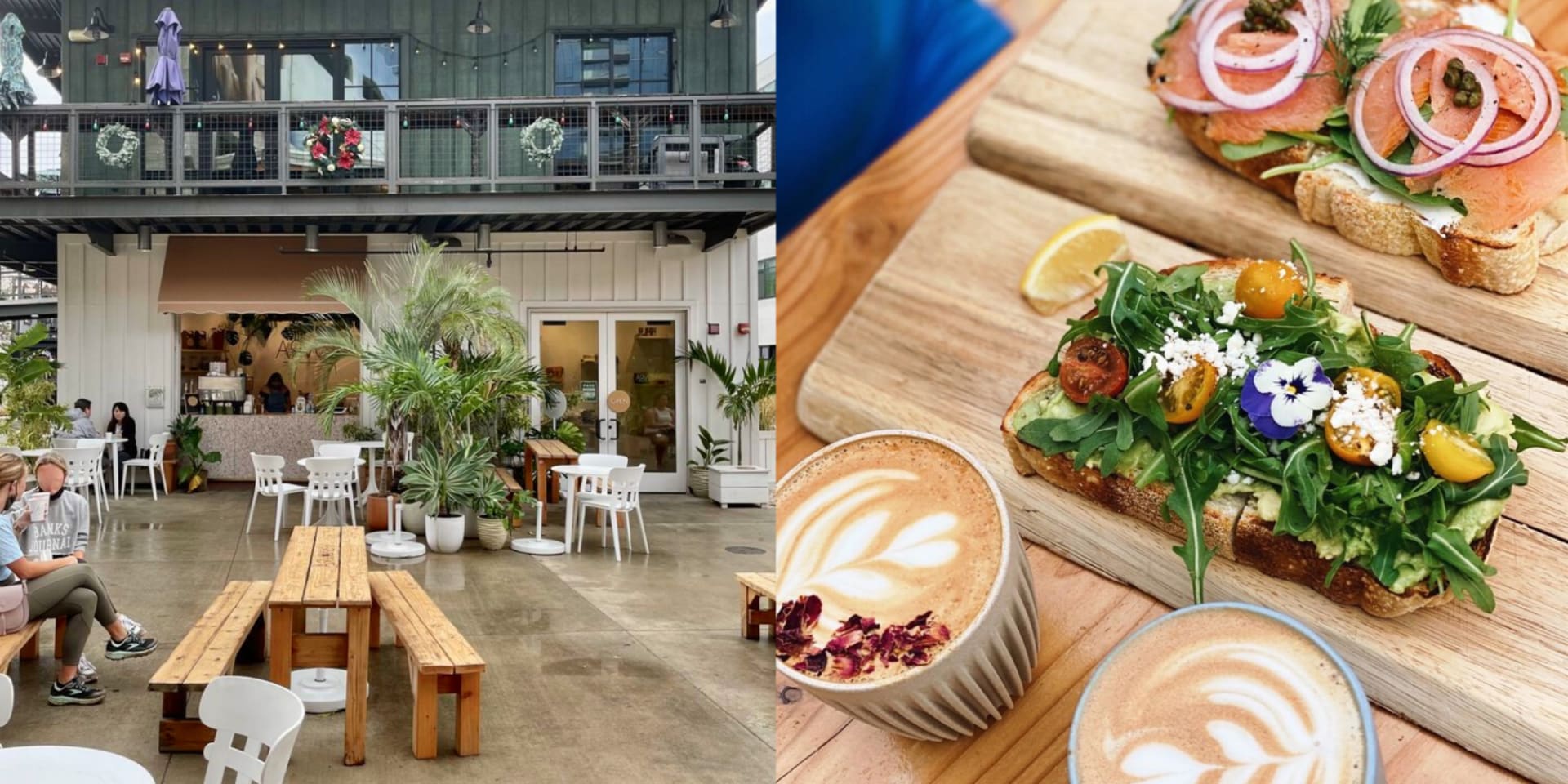 Photos: Andrew B. on Yelp / Cindy P. on Yelp