Cover Photo: The Park on Ke'eaumoku
The Park on Ke'eaumoku, Honolulu
Page Directory: Neighborhood | Amenities | Features of the Residences
Coming to the Ala Moana neighborhood by 2026 is the large mixed-use residential complex called The Park on Ke'eaumoku, which will host 972 studio to 3-bedroom units over 2 42-story residential towers (with over 800 market-rate and 146 affordable units). This building will also feature 88,000 square feet of commercial space and 26,000 square feet of public park/plaza space on the ground level, opening up the area to even more business and community engagement.
The two towers will be known as Liona Tower and Rycroft Tower, with the former estimated to be completed by late 2024 to early 2025, and the latter estimated to be completed by mid to late 2025. The entire project is to be developed by Ke'eaumoku Development LLC, with design work by Design Partners Incorporated and real estate services by Coldwell Banker Realty.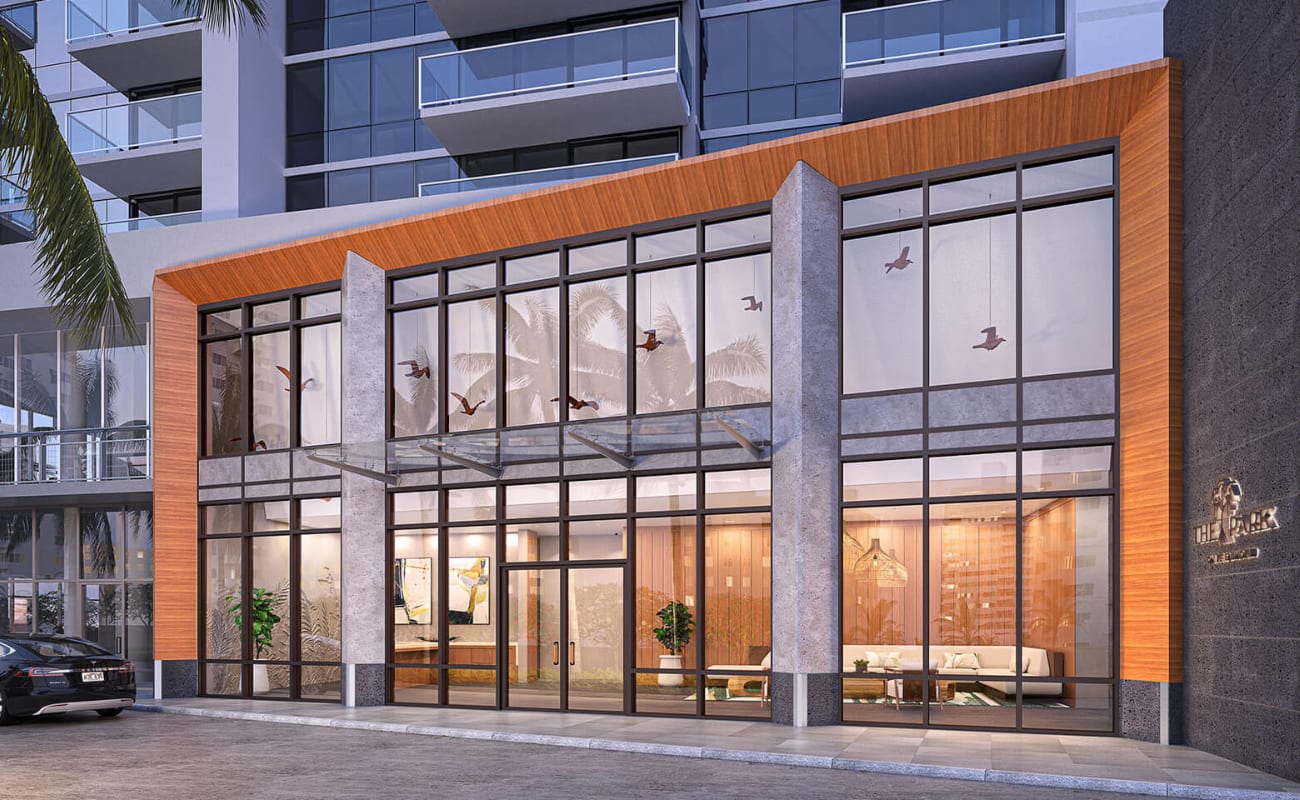 Photo: The Park on Ke'eaumoku
The Neighborhood
The Park on Ke'eaumoku's planned location is in a great spot, with easy access to a variety of great neighborhood staples and shops.
The Park on Ke'eaumoku will be located just one block from Walmart and Sam's Club, which means any groceries, daily necessities, and even larger purchases are right outside The Park on Ke'eaumoku residents' doorsteps. The Park on Ke'eaumoku is also surrounded by a variety of restaurants, including Ireh (a Korean restaurant), YogurStory, Kickin Kajun Honolulu, Teapresso Bar, and Malu Honolulu (a café).
Down Ke'eaumoku Street is the largest open-air shopping center in the world- the Ala Moana Center. Walking just 7 minutes South (or driving 3 minutes) will bring you to Target, Planet Fitness, and a Bank of Hawai'i, and just a bit further will bring you to the main portion of the shopping mall. The Ala Moana Center is home to hundreds of designer boutiques, local shops, fast fashion chain stores, restaurants within a large cafeteria, and even year-round live performances.
Across Ala Moana Boulevard from the Ala Moana Center is Ala Moana Beach Park, which is a great place for outdoor exercising, playing with pets, and having picnics with friends and family. This park also features a beach, an L&L Hawaiian Barbecue restaurant, a Biki bike station, tennis and beach volleyball courts, and the Magic Island Lagoon. All of this is just a 6-minute drive from The Park on Ke'eaumoku, or a 16-minute walk if you prefer to get some extra exercise on foot.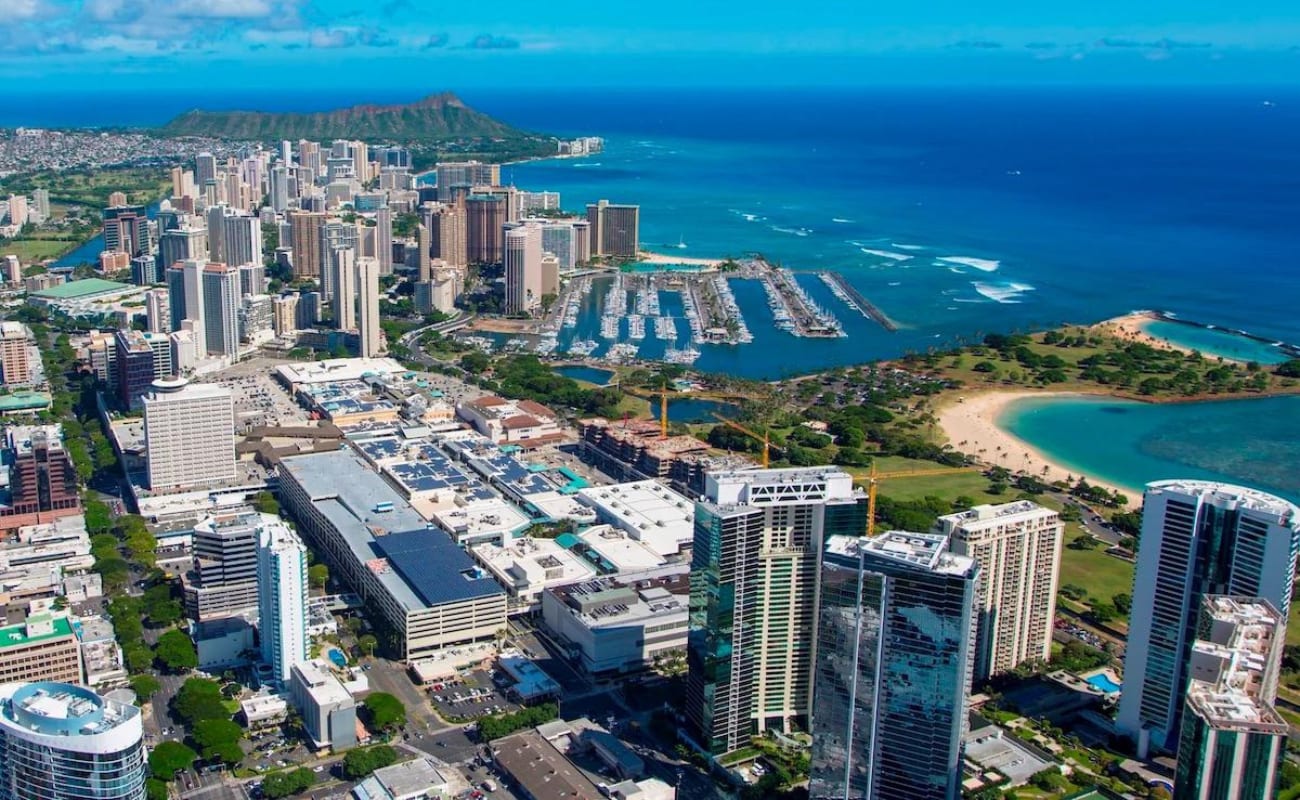 Photo: Ala Moana Center
The Amenities
In addition to amazing neighborhood amenities, The Park on Ke'eaumoku will offer some of the most unique and luxurious on-site amenities in the area. From ground-level shops and commercial space to a 1-acre amenity deck and various indoor services, The Park on Ke'eaumoku will bring something new to the neighborhood that will greatly benefit both the community and residents. Some of the amenities offered to residents of the towers will include:
Landscaped pavilions with BBQ areas
Sun deck
Resort-style infinity pool and spa
Private pool cabanas
Club room
Movie theater
Co-work space
Yoga studio
Fitness studio
4 party rooms
Men's and women's spa areas
Resident's lawn
Over 500 residential bicycle spaces and 51 commercial bicycle spaces
& even more!
As part of the 88,000 square feet of commercial space on the ground level of The Park on Ke'eaumoku (which will be known as "The Grove"), the complex plans to feature a variety of shopping and dining experiences in an outdoor setting. Some of the restaurants planned to be featured within the complex include Island favorites like Sorabol, Sushi-ii, Ireh, and Feast (by Chef Jon Mastubara). The complex will also feature 26,000 square feet of public park space, with a playground, an outdoor fitness area, and a large grassy space.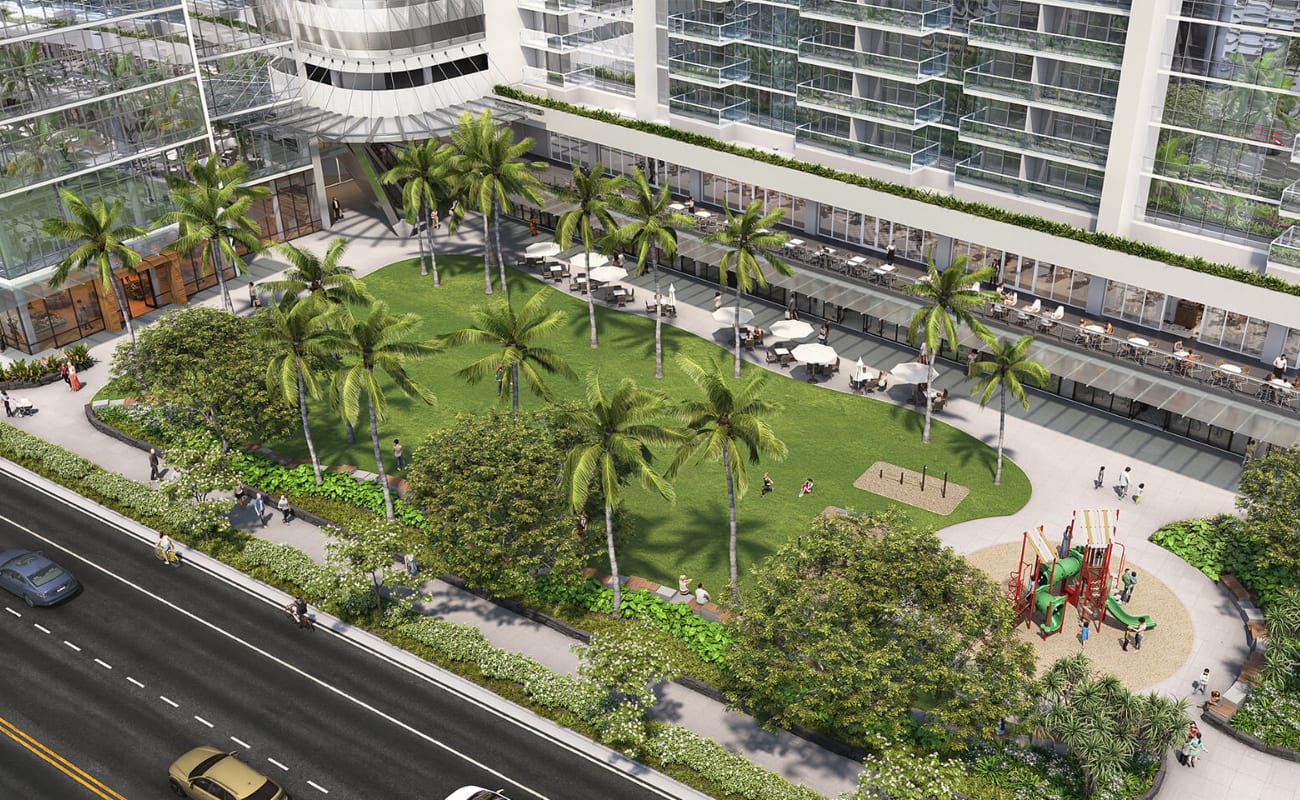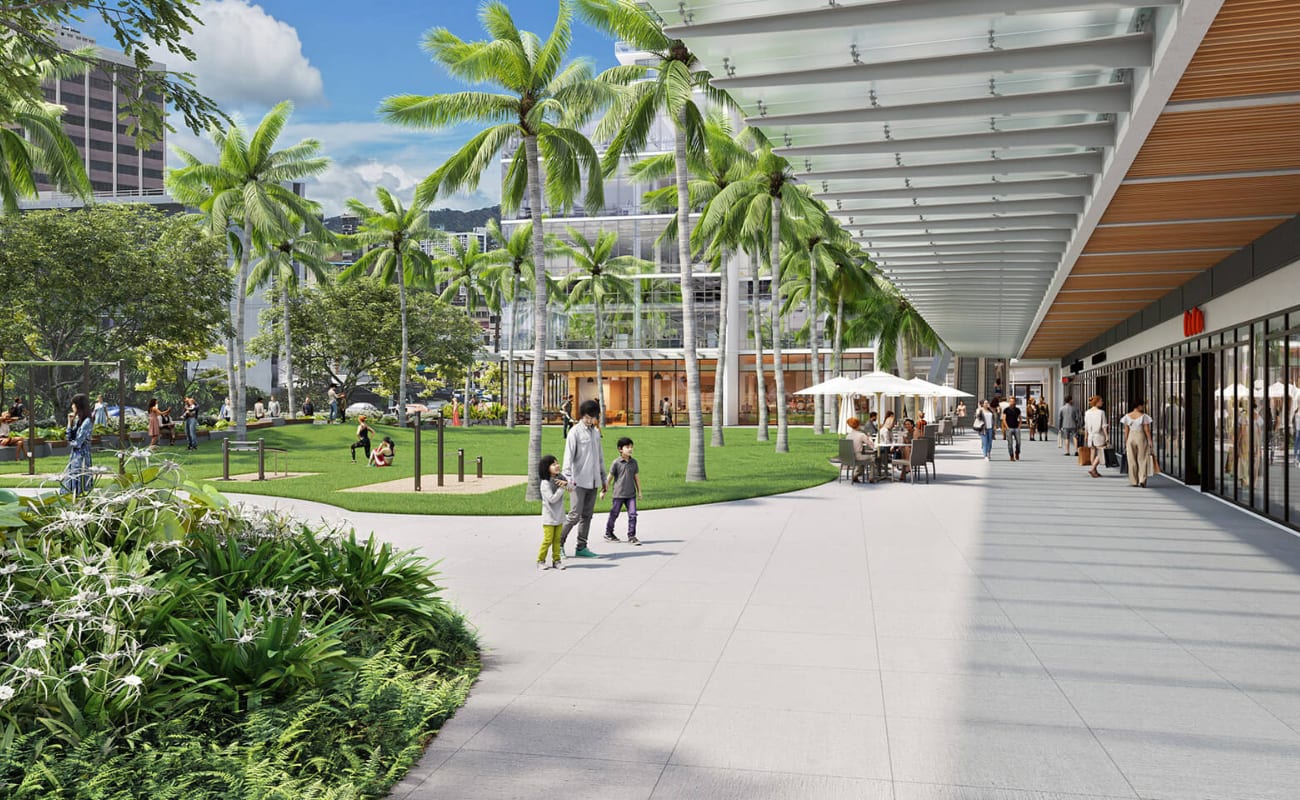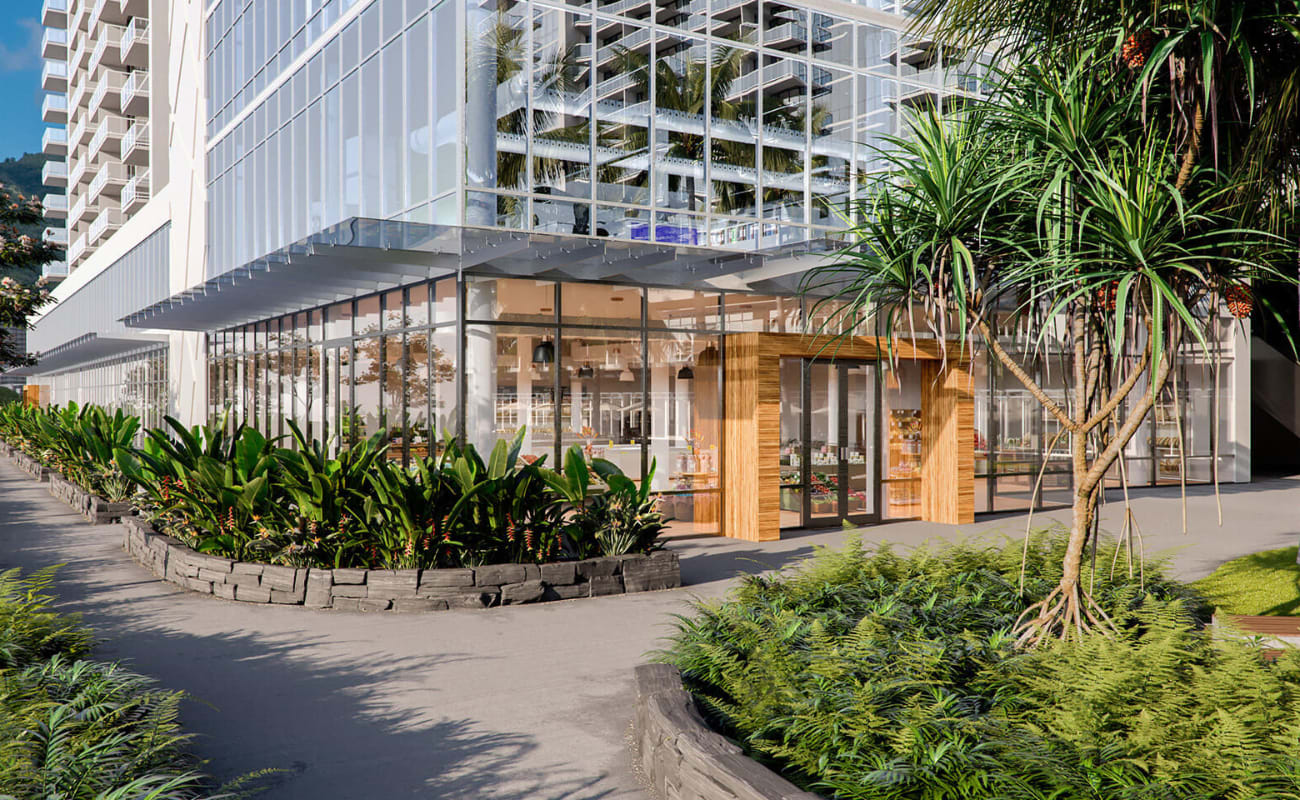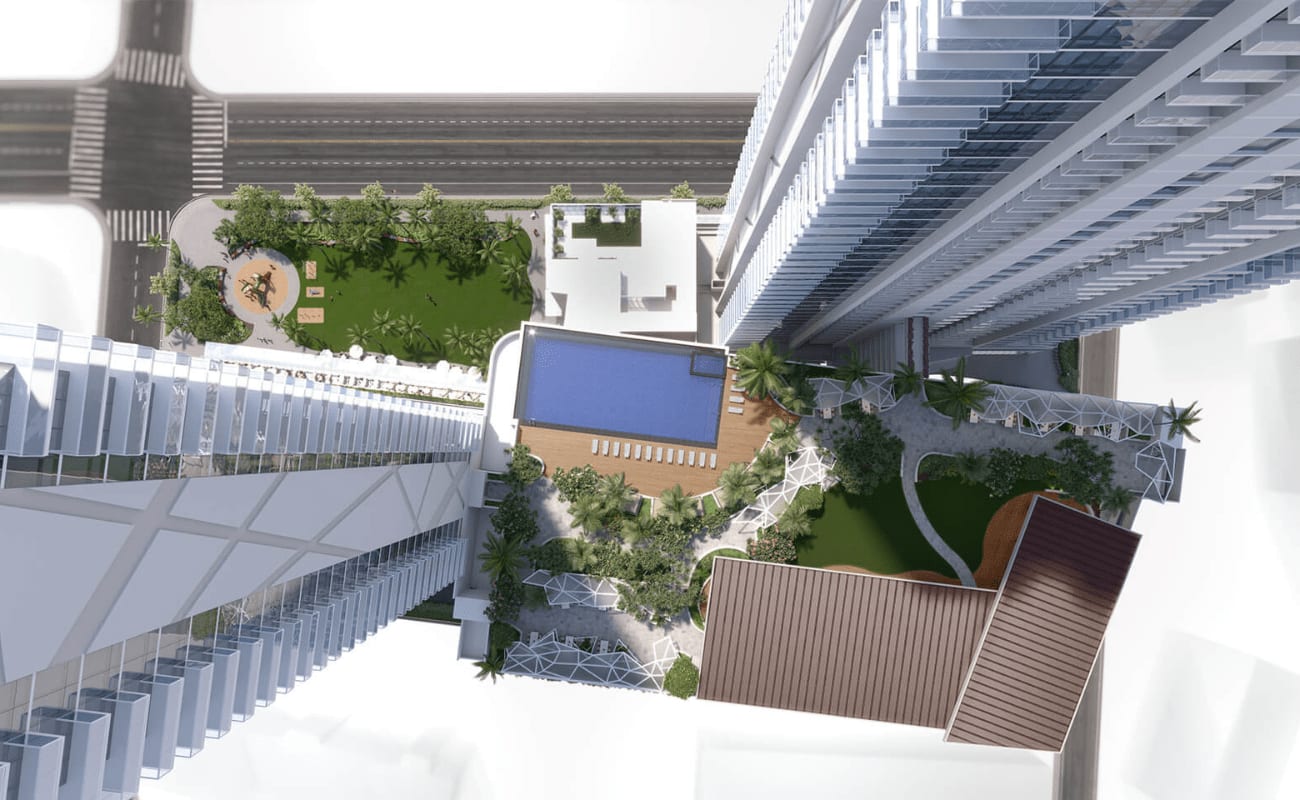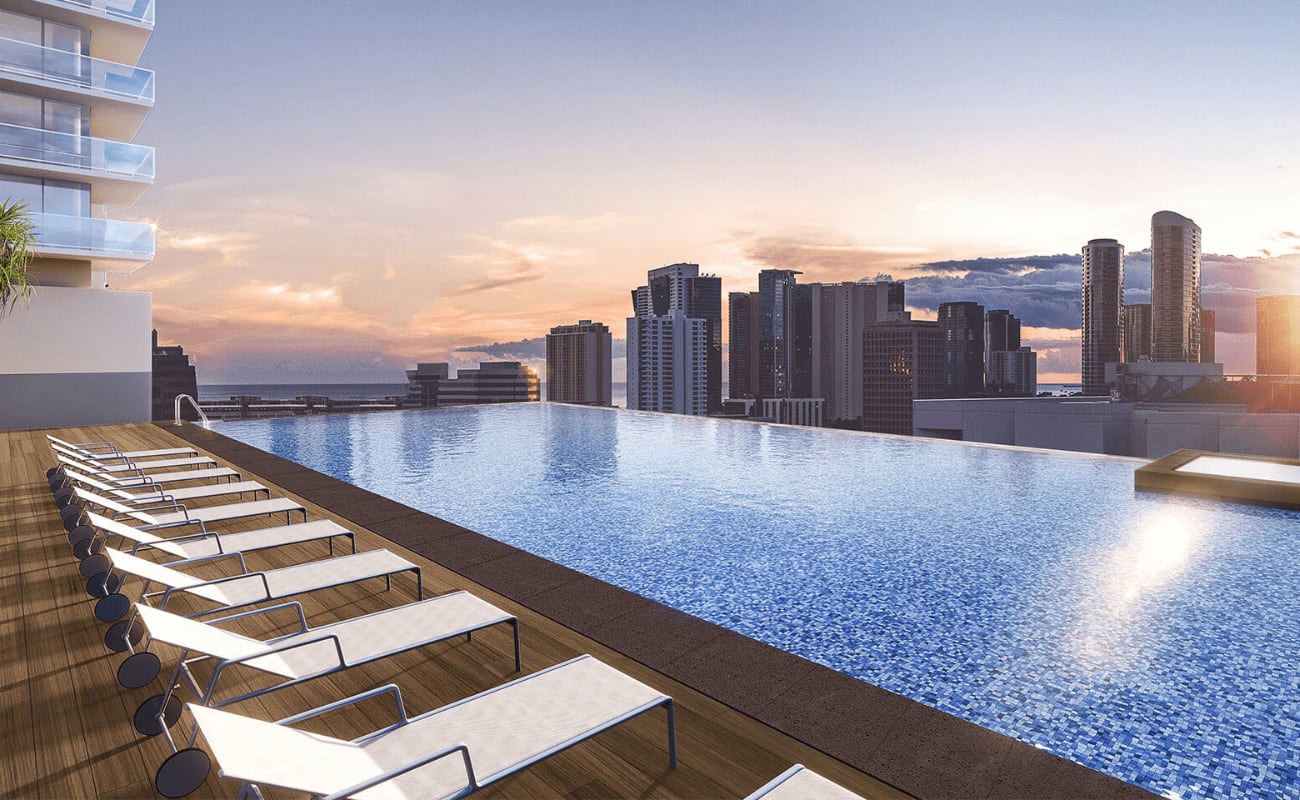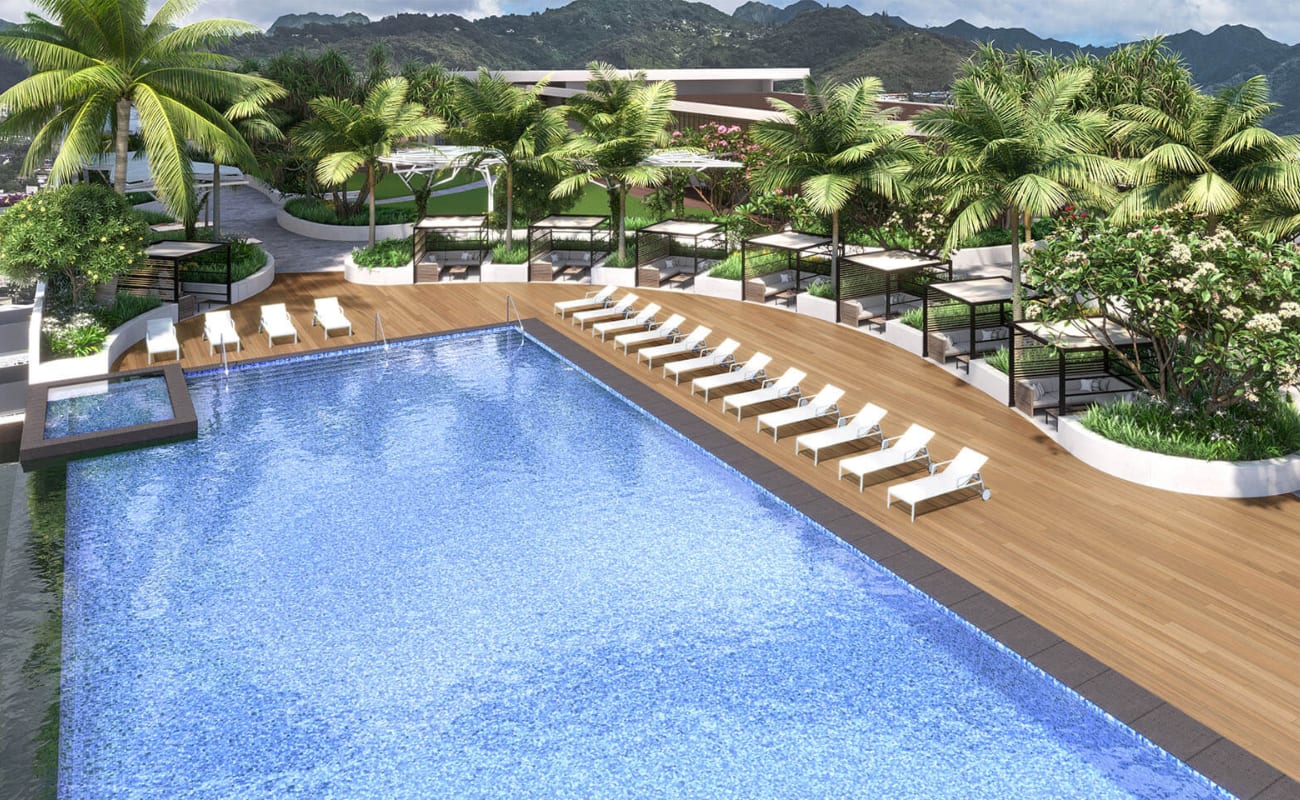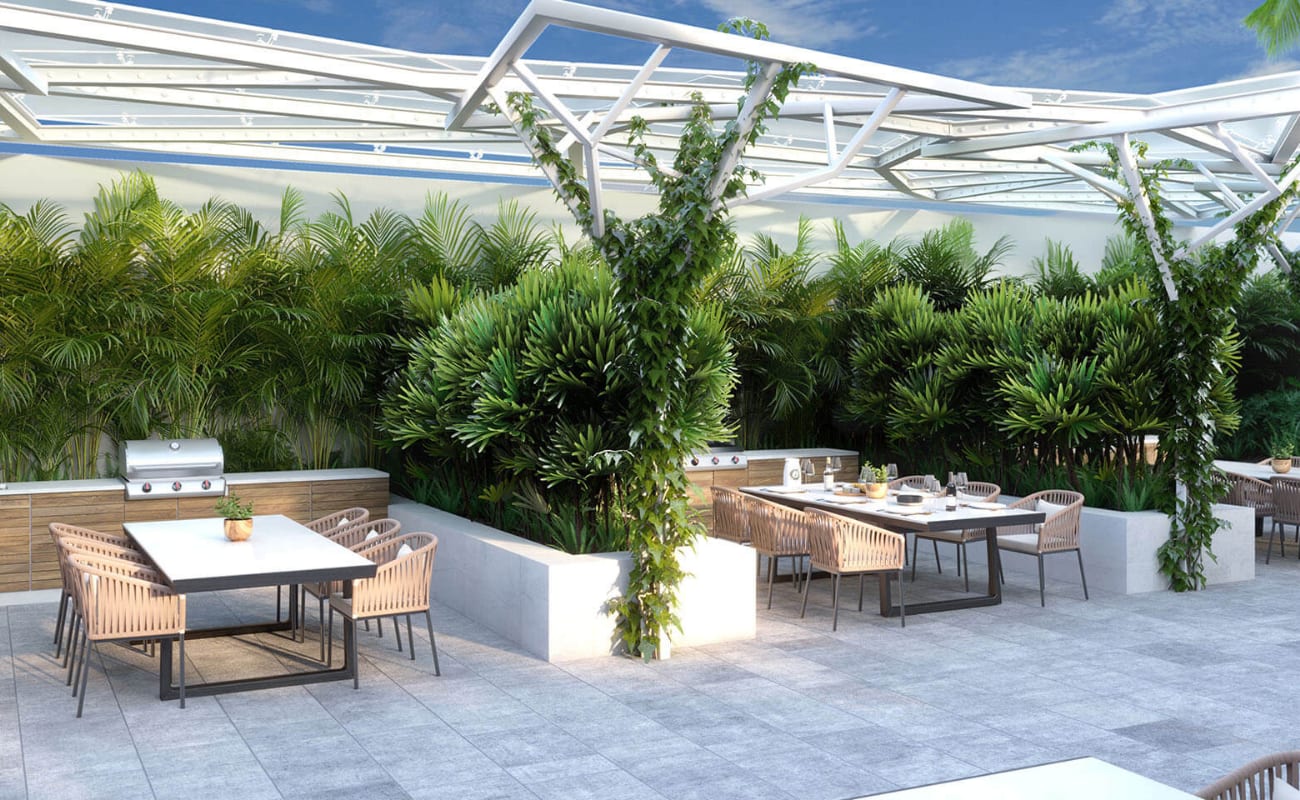 Photos: The Park on Ke'eaumoku
Features of the Residences
As for the residences, The Park on Ke'eaumoku will feature beautiful, contemporary, and luxurious finishes throughout the various layouts, including varying shades of wood, clean color palettes, open layouts, and high-end appliances.
In fact, some of the features planned to be included within the kitchens include:
Quartz countertops
Contemporary hardware
Luxury vinyl plank flooring
Stainless steel appliances
Modern plumbing fixtures
Meanwhile, bedroom features will include:
Floor-to-ceiling windows
Panoramic views
Walk-in closet in select units
Sound mitigation
Carpeted floors
Full baths in 2- and 3-bedroom units
Living rooms will also feature floor-to-ceiling windows and panoramic views, while also offering quiet and refreshing split air conditioning, luxury vinyl tile flooring, and a private lanai.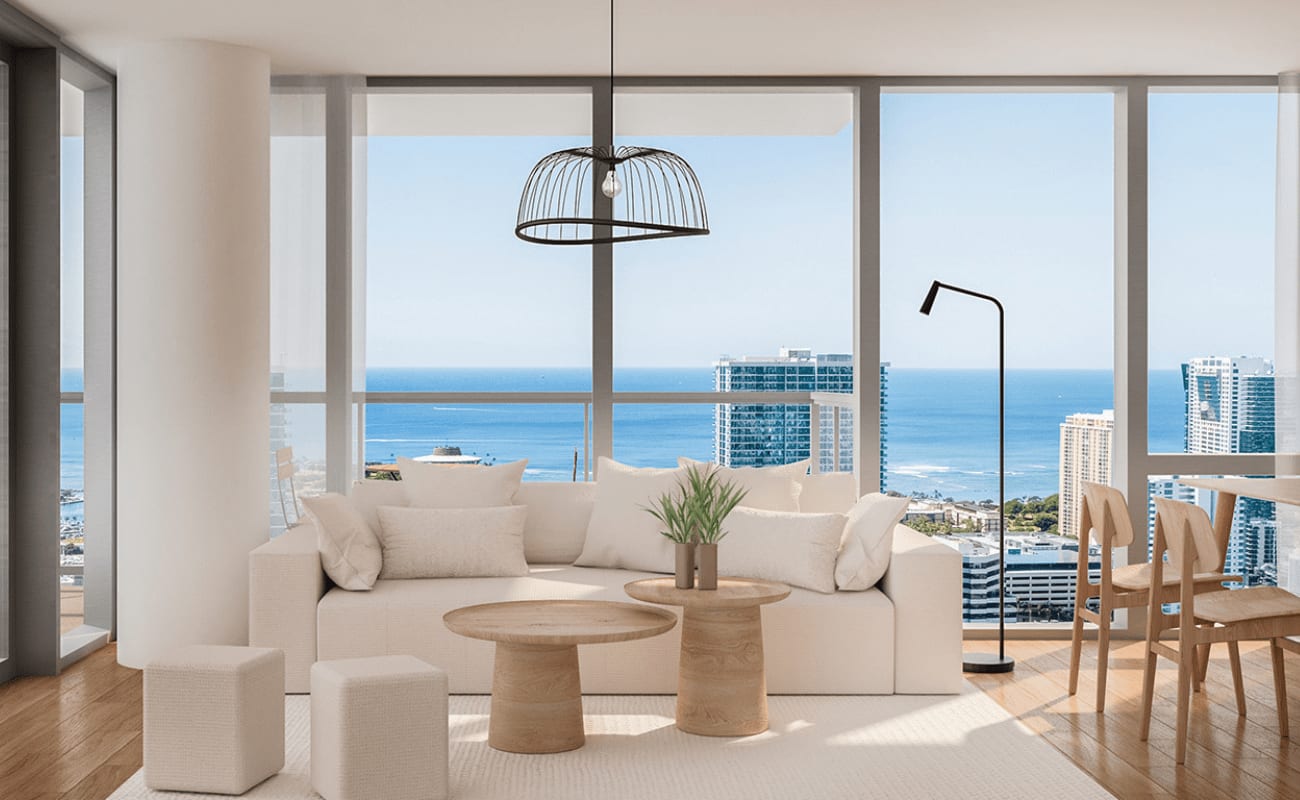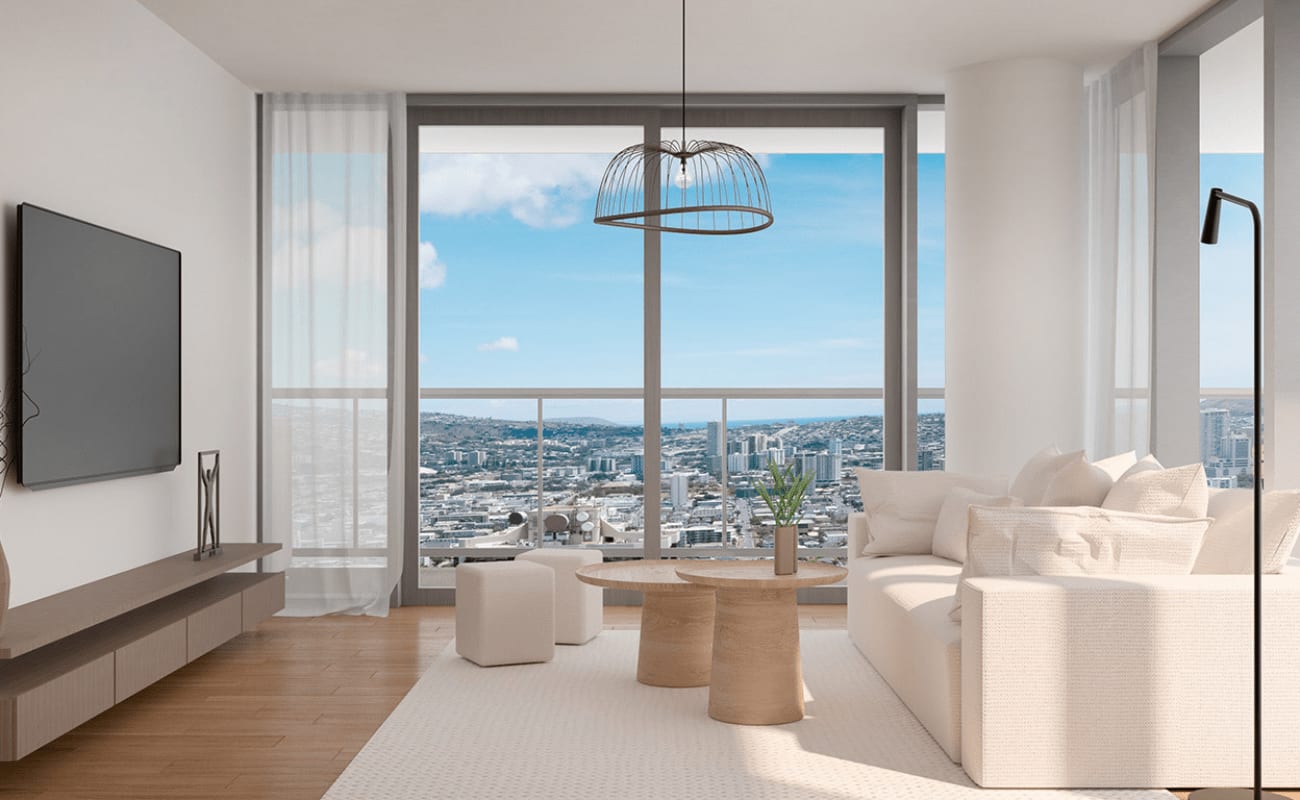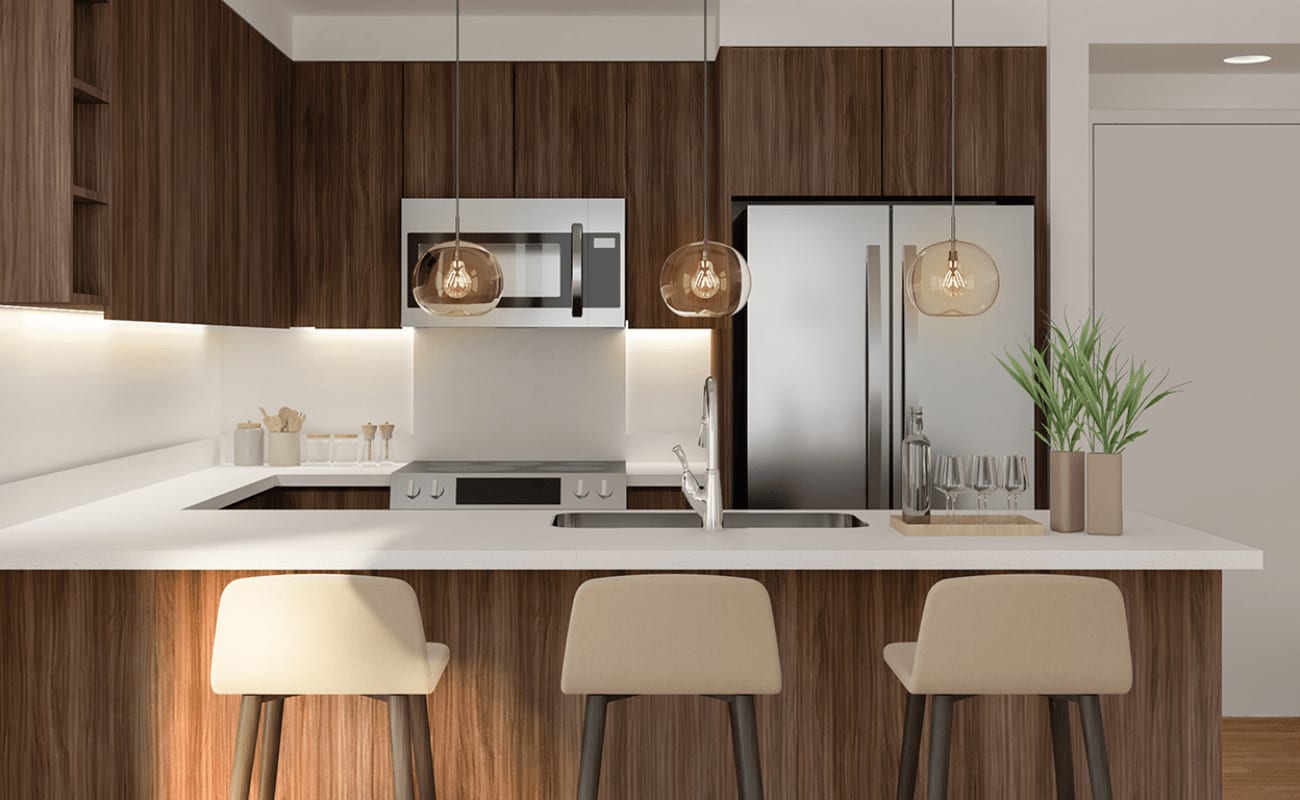 Photos: The Park on Ke'eaumoku